BCN Ranking for Cameras and Lenses – the 5.9% Fujifilm Niche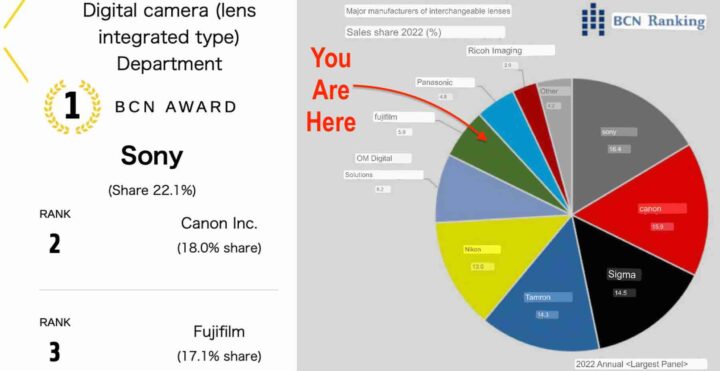 BCN has published their rankings for 2022 sales in Japan.
Cameras:
Fujifilm is out of every ranking except for fixed lens cameras, where it snaps the third position.
Lenses:
Fujifilm had a sales share of 5,9% in terms of lens sales.
Remember:
Biggest market research data available on the internet so far says that Fujifilm's overall camera market share in 2021 was of 5,9% (if we include sales of DSLR cameras). So far no data for mirrorless cameras only has been published.
Surprised?
Anyone surprised? Well, I am not. Fujifilm has always played the niche game and while they did grow significantly when one looks at the mirrorless market only (third largest manufacturer ahead of Nikon in 2020), the way Fujifilm approached the camera market with the design of their cameras kind of "forced" them into a niche.
The Future
The very recently launched Fujifilm X-T5 will have the main responsibility in 2023 to push sales for the X series and possibly grow the market share. Although I believe the Fujifilm X-H2s has such a big potential (as the latest firmware has shown) that if Fujifilm covers is further with firmware Kaizen love, it could become (if it isn't already) a very serious option for all those looking for an ultra-performing stacked sensor camera with PSAM layout.
And sure there will be more cameras and lenses coming in 2023, which I hope will contribute to expand Fujifilm's market share.
But while there is surely still some growth potential, Fujifilm will very likely never get to the crazy numbers of Sony and Canon (which btw are the two companies manufacturing their own sensors and Fujifilm called this their strategic advantage).
But personally I have never had any problem to be part of a niche. Because I have lots of fun in this niche. We might be only 5.9%, but we have 100% love for photography. A love, that Fujifilm can support better than any other brand thanks to the way they design their cameras.