GUEST POST FEATURE HERE
Write Your Articles Directly On FujiRumors!
guest post by Chris Sargent – website mostly.photos – google+ – Twitter pixelstate
Fuji X-T2 wet sensor cleaning is not for the faint hearted but the location and accessibility of the sensor is far more convenient than you will find on a digital SLR and the process although daunting at first is actually fairly straight forward with the right tools.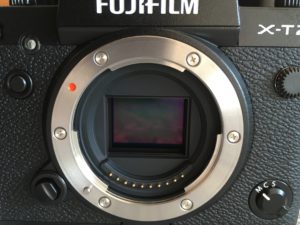 ARCTIC BUTTERFLY
I recommended the excellent Visible Dust Arctic Butterfly Sensor Brush as a good next step beyond bulb blowers for Digital Camera Sensor cleaning. I would caution against not keeping the bushes clean though as oil from the sensor chamber can get on to the filaments and will smear onto your sensor.
I didn't follow my own advice and added some smears as well as dust to my new Fuji X-T2
I was not helped by the fact that my Arctic Butterfly is the larger size (I used to have a Nikon D800) and this makes cleaning the smaller APS-C X Trans Sensor trickier.
CLEAN YOUR ARCTIC BUTTERFLY