Fuji X-Day July 7 :: Not Only Fujifilm X-T2 :: Recap of What Will be Announced (and What Will Not Come)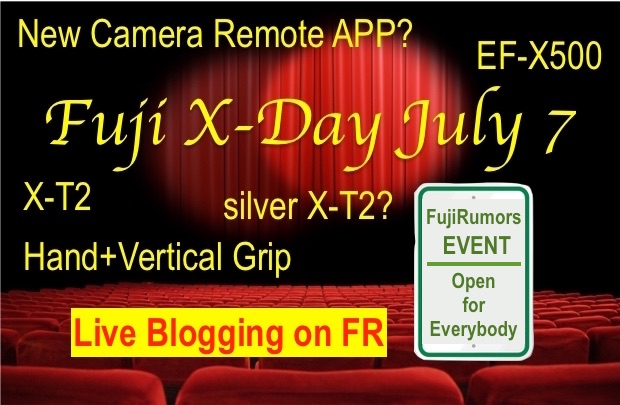 July 7
Fujifilm launches Worldwide Exclusive VIP Events (USA – EU – JAPAN)
And for the mere mortals X-shooters like you and me, who'll never get an invitation from Fuji? You can follow the Live-Blogging-Event here on FujiRumors!
_ _ _
Hm.. let me see… 420 articles shared only in 2016. And 121 of these 420 were rumors. And reading the comments and emails, I have the feeling that some got quite confused in the huge News/Rumors stream on FR. So here are two things I should do
Invite you to follow FR also on social medias (Facebook, RSS-feed and Twitter) and subscribe to the FR-newsletter (box below), where you'll get a weekly summary of the most important news/rumors
Make a short summary for those, who are confused right now, about what we will see (or not) on July 7
To be announced July 7
What will NOT come July 7
I haven't heard of a silver X-T2 to be launched along with the black X-T2. It's a possibility, but I'd not be too optimistic about that
No 23mmF2 annoucement (I'm sorry to destroy many dreams out there, but you can stop hoping. Here is the announcement date)
No 33mmF1.0, 200mmF2, 8-16mm and 8mm in the New Roadmap (post here)
On request of reader emails: No, I haven't heard of any camera remote APP update coming on July 7
That's more or less it. Of course I'm FujiRumors, not Fujifacts, so it might be possible that there will be surprises. Or that I'm not 100% accurate with something. We will see soon.
All I know is that I did my best and squeezed all the energies out of me (and more). But it was (and still is) one of the most exciting times I've ever had on FujiRumors! :-)
stay tuned,

Fuji X Forum, Facebook, RSS-feed and Twitter