When my Old XF23mmF1.4 Beat Sony Full Frame and other Wonderful Moments (but now Welcome my New XF23mmF1.4 R LM WR)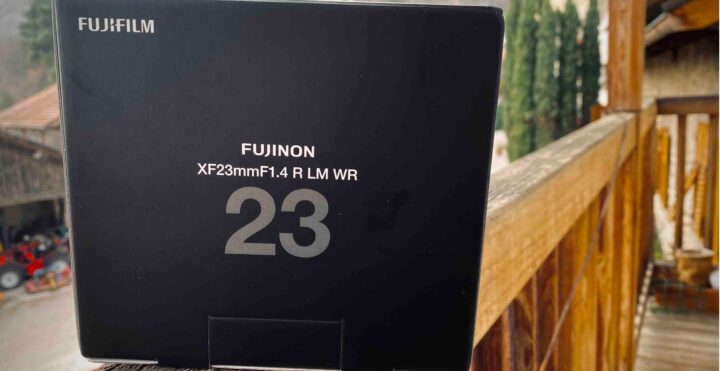 It's Here
It's never easy to let go gear you used and loved a lot. Gear like my good old Fujinon XF23mm f/1.4 R for example.
But now the time has come.
I've just received the new Fujinon XF23mm f/1.4 R LM WR and I've explained the reason why I bought it here already.
The Magic of Making Money by Buying Gear ;)
I bought the lens at Amazon IT here, as they had a better price than my local store and are also qualified for the Fujifilm cashback.
Convincing my wife of this investment went like this:
I don't need to pay for the lens, because I am paying it with the money I made from the X-T4 sale
there is a sweet deal on the new XF23mmF1.4
by buying the new XF23mmF1.4 I can get rid of the old XF23mm and make even more money
I've booked a table for 2 for dinner at a fancy restaurant tomorrow. Yes, only for 2! It will be our first dinner without our son after 2+ years. Grandma is informed, she will watch after our son
This tells us one thing: photography is definitely an expensive hobby when you build up your system, but it gets much cheaper once you can fund new gear by selling old one.
Remember the Good
But I don't let go my good old Fujinon XF23mm f/1.4 with a light heart, as I had many great moments with it. Let me name a few "episodes".
Beating Sony ;)
When Andrea from SonyAlphaRumors became father, I quickly went to the hospital to meet the new little family member. Andrea was there with his Sony A7rII taking picture, whereas I showed up with the Fujifilm X-T1 and XF23mm f/1.4.
At some point I noticed the grandmother holding the baby next to a big window. The cloudy day was throwing a nice gentle light on them. I told her to turn slightly to get the perfect light of her old hands holding the baby, framed the shot… and click… we had the best picture of the day!
Of course Andrea of SAR took tons of images himself, but the one he sent out via email to all his friends to present his daughter to the world was an image taken with the Fujinon XF23mmF1.4.
The Most Important Day in My Life
The most important day in my life is by far the day my son was born.
And on that day, I had only 1 lens with me: the Fujinon XF23mm f/1.4. Nothing else. Here is an image I took with it.
I wanted to keep the gear simple. Don't mess with switching lenses. Just one camera, one lens and free up my mind from gear thoughts as much as possible and focus on the moment. And I knew the XF23mmF1.4 would be the perfect allrounder.
The most precious memory I'll ever have… the XF23mmF1.4 captured it.
The Wedding
Another key moment in my life with the XF23mmF1.4 was when I photographed the wedding of my best friend. Also in this case the XF23mmF1.4 turned out to be a true workhorse and has delivered some wonderful shots.
Conclusion
These are just 3 moments out of many. It's a lens I truly appreciated and if it wasn't for the fact that I own a 40MP Fujifilm X-T5, and hence I want to take out the most of it in terms of resolution and autofocus, I would still happily stick with my old XF23mmF1.4.
I am sure the new Fujinon XF23mmF1.4 R LM WR will stun me. I'll miss the focus clutch a bit, but overall I think that the things I will enjoy of the lens are more than the things I will miss from the old one.
And now apologize me dear readers. It's carnival here in my little 1,000 soul village in South Tyrol. My family is ready to go out and celebrate. And I know which lens I will take with me to capture the day.
Other memories of Sold Fujifilm Gear
The Latest and Greatest
USA Deals
Official Fujifilm Deals
Price Drops
X Camera Deals
GFX Deals
Europe Deals
Down below are all the deals listed by country. I will include GER, UK and ITA, but it runs also in many other European countries.
At the bottom you'll also find the links to the pages where you can submit your cashback claim.
EU X DEALS
EU GFX DEALS
Claim Your Money Back