Good Bye Fujifilm X-T4: My Best X-T4 Experience and the Lens I'll Buy with Money Earned from its Sale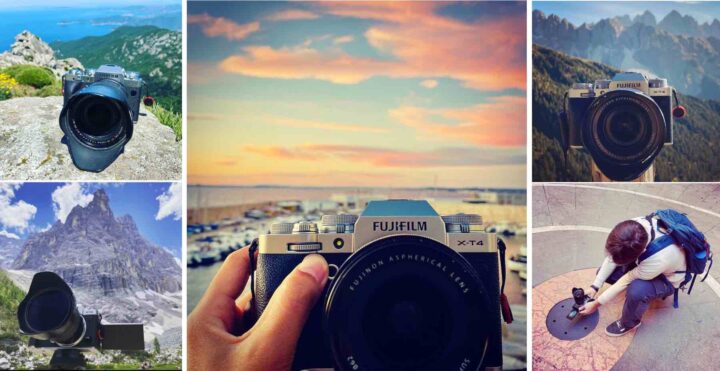 X-T4 – Remember the Good
My Fujifilm X-T4 is gone… sold.
Unlike when I sold my X-T1, there won't be a huge emotional goodbye today.
But that's not to say I didn't appreciate my X-T4.
On the contrary, I have done lots of work (wedding included) and travel with it (taking lovely family images).
At a certain moment, I even fell madly in love with… with the selfie screen!
It was 2020, and since February I was in lockdown and teaching online. I filmed my lessons with my X-E3, but when I finally received the X-T4, it totally improved my workflow to be able to see myself during recording, but I also started to make more creative videos for my students (which they appreciated, as you can here from their Whatsapp feedback I've shared in this article – direct video here).
So I guess this could be called my best experience with the X-T4: it simplified my teacher life during lockdown and also gave me a creative boost.
And to be honest, there were several other occasions where the fully articulating screen turned out very handy, as I have described here.
So to be clear: it might not have been my all time favorite camera, but I appreciated it and had lots of fun with it.
The Sale
And yet, the day I've received the rumor that the Fujifilm X-T5 has a 3 way tilt screen (a masterpiece of a rumor btw, with quotes from V for Vendetta ;)), I did put my Fujifilm X-T4 up for sale. Because although I can see the advantages of fully articulating screens, for my style of shooting the disadvantages just outweigh the Pros.
I needed a couple of months to sell it. I feel like most buyers simply have unrealistic expectations on how much second gear should cost. I received messages from people who said they won't pay more than 500 bucks.
Of course I declined such offers and wished them good luck to find an X-T4 for that price in 2038.
At the end I found someone living just 15 minutes car drive from my home who bought it at a fair price.
The new owner of my X-T4, Nicole, is more into video and prefers the fully articulating screen of X-T4. I am happy to see my X-T4 in the hands of someone who is going to appreciate and love it.
My Next Lens
And what should I do with the money earned from the X-T4 sale?
Buy more lenses, of course! :)
After lots of thoughts, I decided that it will be one of the new fast 40MP capable primes. But which one?
What Not
the good old XF35mmF1.4 is source of eternal joy and happiness for me, snapping personal favorite images over and over again. It kills any desire for the XF33mmF1.4 for me
I use the original XF56mmF1.2 mostly for portraits. I don't need faster AF in those occasions. And I also don't need the even sharper images of the new XF56mmF1.2 R WR. It's portraits, people usually don't really desire to have their wrinkles captured in high resolution 40MP glory. The current 56 is plenty of sharp enough. No need for even sharper portraits
What's Left
the original XF23mmF1.4 is a lens I have used in some of the most important moments of my life: it was the only lens I took with me when my son was born. It was a stunning performer during the weeding I photographed. I made some travels carrying only the XF23mmF1.4 with me. It's just incredibly flexible and also fun and beautiful thanks to the focus clutch. But as much as I appreciate it, I am not madly in love with it like with my XF35mmF1.4. So the new XF23mmF1.4 R LM WR is an option
XF18mmF1.4 R LM WR: I once owned the pancake XF18mmF2 lens. When I sold it I did miss the pancake style and the 18mm FOV every now and then. I replaced my desire for pancake with the XF27mmF2.8 R WR, but I still sometimes miss to have a nice 18mm prime
The Decision
One would say, so keep the old XF23mmF1.4 and get the XF18mmF1.4.
But here is the thing: as you've seen from the examples I made above, 23mm is a really nice focal length that I use in many important moments of my life. And the idea of having the stellar ultra sharp and fast focusing XF23mmF1.4 R LM WR is intriguing me.
So the masterplan is this: with the money from the X-T4 sale I will buy a new XF23mmF1.4 R LM WR (I give it 1/2 months and hope in a sale, otherwise I'll buy full price). Once I have it, I'll sell the old XF23mmF1.4 and have some more money to buy even more lenses. Maybe the 18mmF1.4 or why not, even the XF16mmF1.4.
2023 just starts as 2022 ended: I still struggle with my GAS :D