To switch or not to switch? LAST super-X-deals day. Save up to $1,125 (and persuade Chelsey ;-))!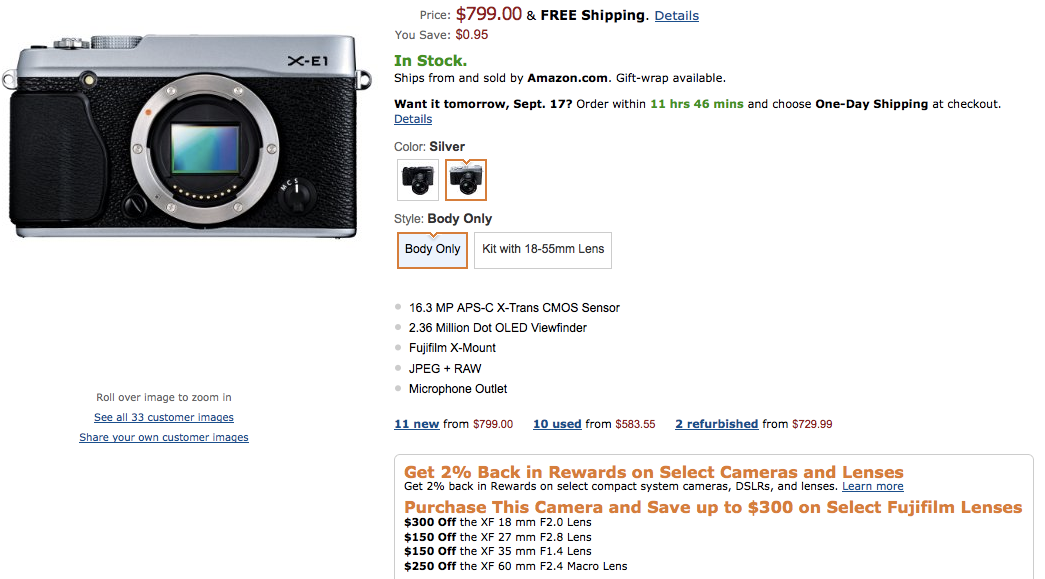 Now or never! This is the last chance to profit from the huge XF-lens discount
AmazonUS: Fuji X-E1 / Fuji X-PRO1 – BHphoto: Fuji X-E1 / Fuji X-PRO1 – Pictureline: Fuji X-E1 / Fuji X-PRO1 – Adorama: Fuji X-E1 / Fuji X-PRO1
To switch or not to switch? That is the question Chelsey Wood struggles with… and many others out there too (read the comments in the last X-deal post here). The dilemma is the following: X-E1 and lenses or GX7 and lenses? Chelsey is gravitating towards the GX7 but said that you still have some hours to persuade otherwise :). So if you think Chelsey should not miss this occasion, feel free to share your reasons in the comments.
And what if Fuji releases the X-E2? lettherebelight said in the last post: "You can always sell the body but the deal on the lenses is awesome. You would probably come out even if you bought say an X-E1 kit with 18-55 and added a 35 f1.4 at the current discount then sold the body later and upgraded to the X-E1s/2 or X-Pro2 body."
Or as Mike said: "Wow, that's a great deal. Worth buying now and putting those lenses away to use with the X-Pro 2 next year!"
It seems that many people think like Mike and lettherebelight, as the X-E1 with kit lens is currently the 3rd best sold camera in the AmazonUS CSC ranking. There are also the X-PRO1 and X-E1 body in the top 15!
And here is the deal: the amount of savings depends on how many XF lenses you bundle with the X-PRO1/X-E1 body. You can save for instance $1,150 if you buy the X-E1 with the 18-55 kit lens and then add the 4 primes. You'll pay $2,645 (purchasing all this gear separately would normally cost you $3,795).
AmazonUS: Fuji X-E1 / Fuji X-PRO1 – BHphoto: Fuji X-E1 / Fuji X-PRO1 – Pictureline: Fuji X-E1 / Fuji X-PRO1 – Adorama: Fuji X-E1 / Fuji X-PRO1
have a great weekend
Patrick
strong sales for the X-E1 and X-PRO1 at AmazonUS