Last 3 X-deals days: save up to $1,150 on the X-PRO1 or X-E1 and 5 XF lenses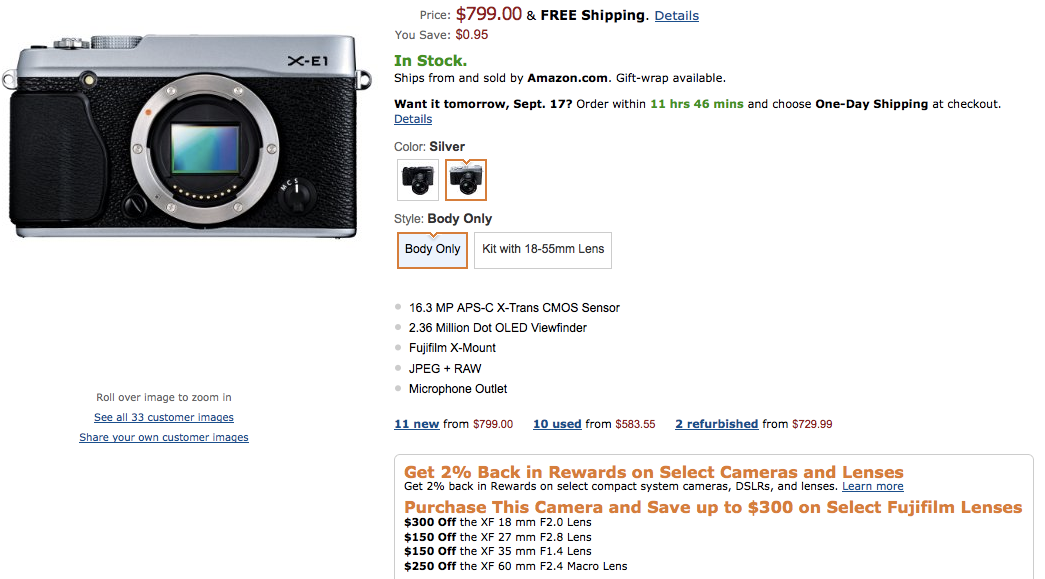 AmazonUS: Fuji X-E1 / Fuji X-PRO1 – BHphoto: Fuji X-E1 / Fuji X-PRO1 – Pictureline: Fuji X-E1 / Fuji X-PRO1 – Adorama: Fuji X-E1 / Fuji X-PRO1
These are the last Fuji-X-deals days. The amount of savings depends on how many XF lenses you bundle with the X-PRO1/X-E1 body. You can save for instance $1,150 if you buy the X-E1 with the 18-55 kit lens and then add the 4 primes. You'll pay $2,645 (purchasing all this gear separately would normally cost you $3,795).
It seems that the (still unconfirmed) rumors about the X-E2 do not influence the sales of the X-E1. In the AmazonUS CSC ranking the camera is stable in the top 20 and right now 15th. As Mike said in the comments: "Wow, that's a great deal. Worth buying now and putting those lenses away to use with the X-Pro 2 next year!"… and then sell your X-E1 or use it as a backup camera.
Also the X-A1 is in the top 20, but behind the X-M1.
X-A1 PRE-ORDERS XC 50-230
X-A1 with XC 16-50: USA: AmazonUS: black – blue /BHphoto: black – blue / Adorama: black – blue / Pictureline: black – blue / EUROPE: AmazonUK: black – blue – red (via DR)
XC 50-230 : USA: AmazonUS: black – silver / BHphoto: black – silver / Adorama: black – silver / EUROPE: AmazonUK: black – silver (via DR)