Tamron Managers Interview: "Fujifilm's Market is Sufficiently Large. We Plan more X Mount Lenses" and more Tamron 18-300 Images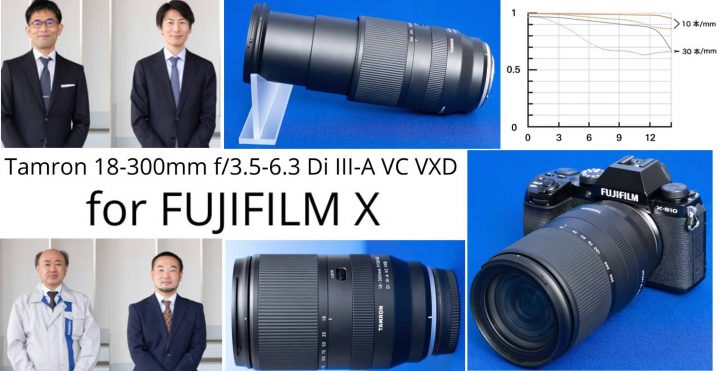 In a Japanese interview to dc.watch, Tamron talks about them entering the Fujifilm X series market with the brand new Tamron 18-300mm f/3.5-6.3 Di III-A VC VX D.
Down below you can find the summary (based on google translate).
You will also find more images that show the lens mounted on the super small Fujifilm X-S10 as well as fully extended to 300mm.
Note that Tamron says the Fujifilm X market is big enough, hence they will release more X mount lenses in future they can't unveil now.
The FujiRumors community voted on their top 10 Tamron (and Sigma) wishes already. You can find the results here.
Developing the Lens for Fuji X
Tamron started developing this lens over a year ago, when Fujifilm decided to share the X mount protocols to third parties
they want to develop products that are easy to use and reasonably priced
Sony has a large market, but also Fujifilm has a sufficiently large market to make a good business
Customers asked Tamron to expand also to other mounts
Tamron chose a superzoom to start with, because Fujifilm itself offers only the XF18-135mmF3.5-5.6 in terms of high-magnification zooms
The Tamron 18-300mm f/3.5-6.3 supplements Fujifilm's current lineup
if you want to shoot with one lens only and make space in your camera bag when you travel, the Tamron 18-300mm f/3.5-6.3 is ideal
The Tamron 18-300mm f/3.5-6.3 has an ergonomic design that is designed to give users a feeling of warmth and familiarity with their hands.
Reducing the Size and Weight
There are many small, lightweight, high-performance mirrorless cameras are on the market, so the lens has to be small too

The

first prototype was much larger. The maximum diameter of the first prototype was 80.5mm


But after repeating the design and interaction many times, Tamron was finally able to reduce it to this size while maintaining the optical performance and operability

The filter diameter is also 67 mm, which makes it common to other of Tamron's products.
The weight will be about 620g, making it possible to shoot with one hand (even though the manager does not recommend it)
We have achieved weight reduction by arranging metal parts and engineering plastic parts in appropriate places while balancing product strength and weight.
Incredible close-up performance
shortest shooting distance of 0.15m at the wide end of 18mm and a working distance of about 5mm. It's millimeters, not centimeters. If you have a filter attached, you can get close enough to make contact
the goal was also to improve close-up photography performance
It 's natural for smartphones to come close to us, so I think many people will accept products that have virtually no restrictions on the shortest shooting distance. However, during close-up photography, the attached filter may come into contact with the subject or the lens may hit.
The Motors inside the Lens
this is the world's first high-magnification zoom for APS-C mirrorless cameras
Mirrorless lenses need to move the focus lens group directly with a motor. Another motor is required for opening and closing the aperture blades and another motor for image stabilization mechanism VC, so a total of three motors are built in. If this is not arranged properly, the lens barrel will become thick
in order to drive the optical system with a small motor it is necessary to make the focus system lens group as light as possible. Although there are restrictions on the focus lens group, it was a difficult design to require high-dimensional image quality that matches the latest high-performance cameras.
downsizing the lens was the biggest challenge
Image Quality
For high-magnification zoom, it is necessary to expand and contract the lens barrel as each zoom group moves along the cam
the zoom magnification is 16.6x, so the amount of movement of each zoom group is much larger than the Tamron 28-200mm F / 2.8-5.6 Di III RXD released last year (for full frame). Plus it also has built-in image stabilization, which makes it more difficult to design
image quality is at the highest level compared to Tamron's other superzooms
7 lens

for image quality, but Tamron succeeded in controlling the movement of each complicated group with high accuracy and smoothness

image quality is definitely not bad
You can take advantage of the digital correction that is unique to mirrorless cameras, but even if you do not use it, the image quality is high enough to cover the performance of the latest digital cameras.
Autofocus Performance
it's the first superzoom of Tamron to

use the linear motor VXD (Voice-coil eXtreme-torque Drive)

The VXD was first used in our Tamron 70-180mm F / 2.8 Di III VXD, but it was well received for its extremely fast and accurate AF
Tamron does not think you will be dissatisfied with the AF performance
VXD is a linear motor, it can significantly suppress noise compared to other motors even when shooting movies.
The Future
We are also planning other X-mount lenses. I can't say when, but I hope you can look forward to it.
Tamron 18-300mm f/3.5-6.3: BHphoto / AmazonUS / Adorama
via dc.watch
The Fastest Growing Fujifilm Group
Join Our Owners Groups
Join Our Facebook Pages