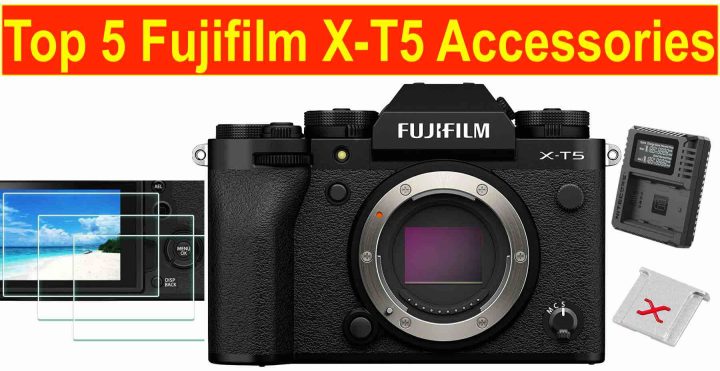 With the Fujifilm X-T5 now shipping (and even being in stock at B&H & co), I thought I make a list of accessories I can recommend to you.
1) Dual Battery Charger, but Which One?
The Fujifilm X-T5 does not come with an external charger in the box, so you better get one.
You can get the Fujifilm original one (BC-W235) or get a more affordable third party solution like the Nitecore FX3 dual charger.
I own both and if I'd have to nail it down to Pros and Cons, I'd say the Fujifilm BC-W235 charges a bit faster but the Nitecore FX3 is more compact and more affordable. So it's up to you to set your priority.
2) Spare Battery, but Which One?
For many of you the Fujifilm X-T5 might be the first camera with the new NP-W235 battery. And even though you'll enjoy much longer battery life compared to the NP-W126S, it's best to get at least another battery.
Which one? Well, after having had my first third party battery fail last year, where my Patona swelled up in my X-E3 and I had to fiddle around to get it out, I think the safest way to go is with original batteries.
Sure, it was much cheaper than the original battery, so I can't complain about its shorter life span. But going forward I will stick with the original.
3) Only recommended SD Cards (with difference over X-T4 recommended cards)
If, like me, you used an X-T4 and now upgraded to the Fujifilm X-T5, and you bought your SD-Cards based on the officially recommended cards list for the Fujifilm X-T4, then you have to be aware that there have been changes.
Some UHS-II cards recommended for the Fujifilm X-T4 (for example the Toshiba Exceria Pro) are now no longer recommended for the 40 megapixel Fujifilm X-T5. The updated list for X-T5 contains:
The detailed list of recommeded cards for X-T5 can be found here and for X-T4 here.
4) Good Bye Selfie Screen, Welcome Screen Protector
One of the cool things of my Fujifilm X-T4 is that I can flip the screen inwards and hence keep it nicely protected (and it gives it an ultimate retro touch, as it looks to be a camera with no LCD screen at all).
However, with the 3 way screen of the Fujifilm X-T5 that is no longer possible.
But don't panic, the solution to this is cheap and efficient: buy a touch sensitive screen protector. I buy those usually at my local store, so they also apply it on my camera right on the spot.
5) Give it a Cool Touch
The Fujifilm X-T5 is a wonderful looking camera, but if you want to put the icing on the cake and make it perfect, you can get one of those little X custom hot shoe covers.
X Hot Shoe Cover for USA:
X Hot Shoe Cover for EUROPE:
X Hot Shoe Cover Amazon Worldwide
Check the Stock