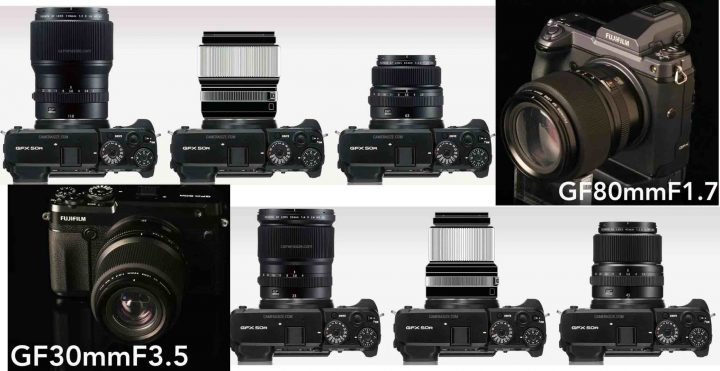 Fujinon G Mount Lenses – Size Comparison
The Fujifilm GFX community is salivating, looking at the latest G mount roadmap.
In fact, the new roadmap lists a stunning Fujinon GF 80mm f/1.7 lens, which in other sensor sizes is:
And to be clear: we apply the conversion to the f-stop, only to indicate the equivalent shallow depth of field, and not the light gathering capabilities of the lens itself, which remains the one mentioned on the lens (with the consequences we told you here).
We also find a lovely Fujinon GF 30mm f/3.5 lens, which Fujifilm says is meant for street and landscape photography, be very sharp and also focus fast.
At the recent Fujifilm X Summit, Fujifilm showed some mockups and also disclosed more details.
I thought we catch up on that, sum up all we know, and add a few size comparisons based on the technical sketches Fujfiilm delivered during the event.
Fujinon GF 80mm f/1.7

Let's start with the Fujinon GF 80mm f/1.7.
Above you can see a size comparison provided by Fujifilm. The Fujinon GF 80mm f/1.7 is 20% smaller and will weight under 800g, as opposed to the GF110mm f/2, which weights 1010g.
The picture above also shows the GF80mm f/1.7 mounted on the Fujifilm GFX100.
Fujifilm gave us some indications on what the differences between both lenses are.
The Fujinon GF 80mm f/1.7 will have a very creamy and softer bokeh compared to the one on the Fujinon GF 110mm f/2. Different bokeh quality for different tastes.
Also, due to its more compact nature, the Fujinon GF80mm f/1.7 is good for outside and active shooting, whereas the GF110mm f/2 instead is better suited for studio.
I decided to compare the Fujinon GF80mm f/1.7 to its closes in terms of focal length, the Fujinon GF110mm f/2 and the GF63mm f/2.8.

Fujinon GF30mm f/3.5
Next in our list is the Fujinon GF 30mm f/3.5.
In this case, we are going to compare it with the Fujinon GF23mm f/4 vs Fujinon GF 45mm f/2.8.
Sadly camerasize does not have the GF45/2.8 in their database, so I added it manually to the Fujifilm GFX50R.
Down below you see that it is just a tiny bit shorter than the GF23mm f/4

Both lenses are fantastic additions to the Fujinon G mount lineup.
What we want know thought, are the other ones we saw in the internal secret roadmap… but not so secret anymore, thanks to this leak ;).
Fujifilm GFX 100: B&H Photo, AmazonUS, Adorama, Focuscamera, CalumetDE, ParkcamerasUK, JessopsUK, PCHstore
The GFX Community
Follow FujiRumors: Facebook, Flipboard, Instagram, RSS-feed, Youtube and Twitter