Fujifilm Displays XF 50mm f/1.0 as "Coming Soon" at London's House of Photography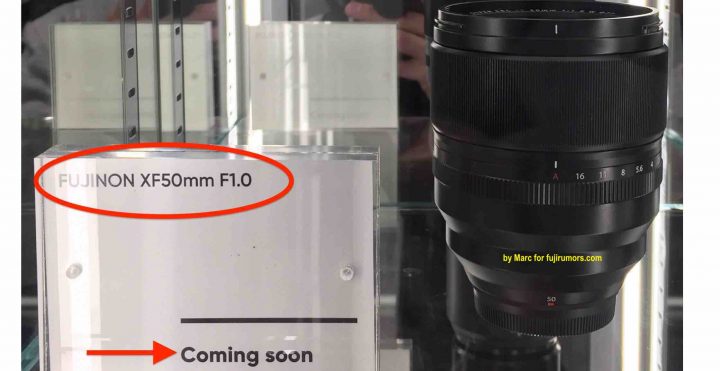 You know what's a really cool thing of being part of the FujiRumors community?
That you guys are my eyes and ears all over the world :).
So it happens that, even though I can not visit the brand new Fujifilm "House of Photography" in London, fellow FR-readers keep me updated, and let me know about their experience. Hence, a little bit, it feels like you allow me to be there with you, too. :)
Today it's Marc, who sent me a lovely tidbit from inside the "House of Photography": images of the Fujinon XF 50mm f/1.0, which Fujifilm marks as "coming soon".
That lens can't come soon enough!
Other than that, I hear just great things about the "House of Photography", which also hosts the famous Markus Klinko exhibtion about David Bowie.
So if you are one of the lucky FR-readers living in London or around, definitely go there as soon as you can.
And don't forget… whatever you hear and see… you are my eyes and ears… ;)
You can contact me anytime at fujirumor@gmail.com or via private message on Facebook or Twitter.
Follow FujiRumors on Facebook, Instagram, RSS-feed, Youtube, Flipboard and Twitter.
Rumors and Discussions

Stay in the Loop

Eager shoppers queue for opening of Fujifilm's flagship UK store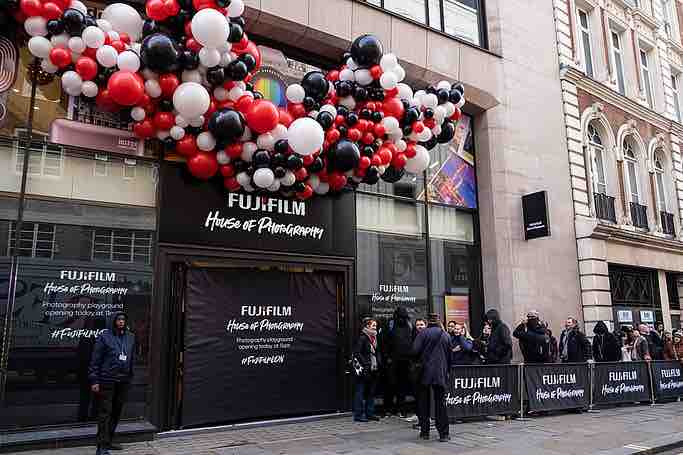 Hundreds of photography fans from across the country queued for hours to be the first to set foot inside Fujifilm's world-first concept store.
Eager shoppers arrived from 5.58am to get a place at the front of the line outside the new store in London's Covent Garden during its grand opening at 11am this morning (03/12).
The photography giant unveiled its three-story, 7,520 square foot store on Long Acre, featuring living walls, selfie pods and free to use photography studios.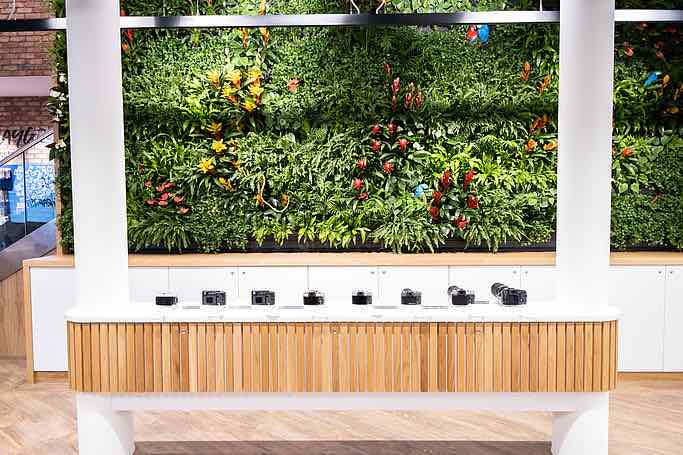 The first customer in line was Lucia Tremonti, from London, who got up in the early hours of the morning to be the first person through the doors. She said:
It's really great to be here and I'm so excited to be the first one through the door!
here were over 400 other customers who queued alongside Lucia to be first to see one-of-a-kind concept store, all travelled far and wide to be there. Number six in the queue came from Devon and was waiting outside the door at 6.15am.
The FUJIFILM House of Photography aims to become the most photographed store in London, a sensory photography playground which puts cameras in the hands of the public to inspire and nourish a love of taking, sharing and printing photos.
Visitors will be able to pick up and play with cameras and receive expert advice as in a traditional retail store, but can also hire free studio space, test out lighting in the Midnight Studio, take their time to create a scrapbook or any photo gifting product, take pictures against the exotic flower bedecked living wall, attend seminars and workshops, get creative in the social studios, and view the Gallery, which will feature monthly-changing exhibits.
Theo Georghiades, FUJIFILM House of Photography Project Leader, said:
Our new flagship store aims to offer a space where every kind of photographer – from smartphone snappers to professionals – can experience the magic of photo-taking and photo-making. The House of Photography is a world-first for Fujifilm, and has long been part of our vision for how consumers experience the brand – so it was fantastic to see so many visitors share in this today.

"We are thrilled that the general public joined in our excitement – just a look at the queue shows how well received the store has been. Now the House of Photography is open, visitors can expect a space for creative collaboration and photographic excellence that completely subverts the traditional approach to how consumers expect a photography store to look and feel.

"We look forward to welcoming the people of London and beyond to our sensory wonderland, and invite them to challenge their creative limits and create amazing images to share with the world.
The FUJIFILM House of Photography will be open seven days a week, with late 8pm closing times on Friday and Saturday nights.
The first floor marries photographic creativity, social interaction and knowledge sharing with a number of free-to-use social studios, open-plan and collaborative studio spaces available for visitors to use free of charge. The floor is also home to a Gallery space with an exclusive exhibition of photographs of David Bowie by renowned photographer Markus Klinko, on display until the end of December. From January, the Gallery will celebrate Fujifilm's long-standing partnership with WaterAid.
At basement level, club members will also be able to relax and unwind in a dedicated lounge space, a social setting and club for professionals and Fujifilm enthusiasts. Whether discussing ideas over a coffee or hiring the dedicated studio, this unique photographic club is designed for collaboration and socialising between the most creative and innovative minds in the industry.
Fujifilm has opened its first ever concept store not just to celebrate the art of photo-taking on digital and instant cameras, but to free memories trapped in smartphones and eternalise photos with printing services, including canvasses, mugs and tote bags.
The FUJIFILM House of Photography opened to the public at 11am on Tuesday 3 December, and can be found at 8-9 Long Acre, WC2.
via Fujifilm UK