Skylum's LUMINAR 4 to Be Released November 18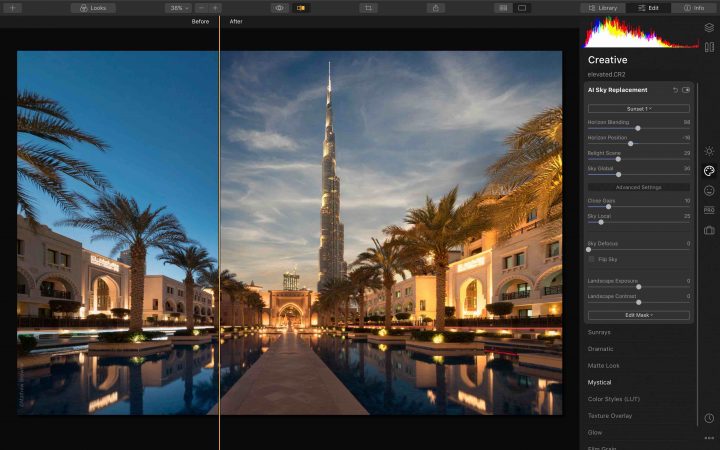 Luminar 4 will be released on November 18.
Pre-orders include a bonus one-year plan to SmugMug (worth US$180) and costs US$79 for a new purchase and US$69 for an upgrade. When released on November 18, the price will jump to US$89 new and US$69 for an upgrade.
Luminar 4 will implement strong use of AI, such as:
see here – New Video Demo of Luminar 4 Sky Replacement and Portrait/Skin Enhancement Features
see here – This Video Shows Impressive New Portrait & Skin Enhancement Tools in Luminar 4
see here – Content Aware 'AI Structure' (smart auto clarity slider)
Press Release
Image editing made extraordinarily fast through AI advancements in Luminar
Flagship software to bring innovative machine-learning tools and workflow to photographers as both a standalone application and plugin.
BELLEVUE, WA -October 15, 2019—Skylum is pleased to announce additional enhancements coming to Luminar 4 to be shipped on November 18, 2019. The release intends to change the way photographers approach photo editing, offering several tools informed by extensive machine-learning and a new streamlined interface to make photo editing more accessible than ever before.
Luminar 4 isn't just another photo editor —it brings time-saving, creative photo processing to everyone in an easy-to-use approach. Skylum wants people to enjoy not only the taking of photos, but also the processing images which is typically where many photographers have the most frustration.
With Luminar 4, anyone can create a masterpiece.With a refreshed interface and workflow, Luminar 4 shifts from being a tool-based approach to one that is purpose-based. It shortens the learning process, helping any photographer experiment creatively and expand their vision. While the software incorporates complex tools, they're completely customizable and easy to use, whether you're a beginner or seasoned professional.
For example, in Luminar 4, photographers will experience the power of AI Sky Replacement —the first automated sky replacement tool in the market. AI Structure provides photographers with a tool to adjust fine details in their photographs, without destroying relevant subjects. Finally, tools like AI Skin Enhancer and Portrait Enhancer will take an everyday portrait and turn it into a masterpiece!
With these groundbreaking tools, photographers can achieve amazing results with just the click of a button.
"Luminar 4 will be our biggest release yet," said Alex Tsepko, CEO of Skylum. "The changes we've made to the interface and workflow will make the photo editing process faster, and open up new possibilities to photographers everywhere. With new tools fueled by machine-learning, AI Sky Replacement, we make photo editing more accessible and approachable than ever before, Tsepko concluded
"Photographers no longer haveto think about the 'how do I do this?,' instead they can focus solely on their creativity and lasting results."
Filters get changed to Tools in Luminar 4
Luminar 4 is the biggest update in the program's history. Based on user feedback and data that the company has studied, the software has received significant improvements and refinements.
In Luminar 4, filters are now called "tools," making for a simpler understanding of the software. These have been organized into six tabs for their intended purpose, making it easy for users to locate and understand what they do:
Tools: Basic tools to work with, including Crop, Transform and Erase
Essentials: Everything necessary for basic Color and Tone Correction
Creative: Photo processing tools that allow photographers to take their photos to the next level, including AI Sky Replacement
Portrait: Tools oriented for processing portraits, including AI Skin Enhancer and Portrait Enhancer
Pro: Sophisticated tools for professional photo processing
Deprecated: Tools left for compatibility of presets that have been created within earlier versions of Luminar.. These tools are no longer relevant due to new technologies in Luminar 4 and will be removed in future versions
Also, some general interface improvements have been made. These include enlarged fonts, increased spacing between elements to improve readability, increased availability of basic functional elements, enlarged sliders and better optimized contrast of interface elements.
Luminar 4 can adapt to any workflow
While Luminar 4 will be available as a standalone application, it will also shine as a plugin for Adobe Photoshop, Lightroom Classic and Photoshop Elements, as well as Apple Photos for macOS and Aperture. By offering users a variety of ways to edit theirphotos, Luminar 4 will be accessible and fit into any photographers' workflow!
Pricing and availability
Luminar 4 is set to be released on November 18, 2019. Pre-orders include a bonus one-year plan to SmugMug (worth $180) and costs $79/€79/£72 for a new purchase and $69/€69/£64for an upgrade. When released on November 18, the price will jump to $89/€89/£81 new and $69/€69/£64 for an upgrade.