With the launch of the 55-200 on April 17th we will finally know the price, the specs, read the first reviews and be very likely able to preorder it the same day (or the day after – the lens will be shipped on May, according to Fuji).
_
But now I'm glad to keep a promise :). FR-reader Francesco sent me his feedback about the eXperience tour and told me that they saw Al Pacino walking through the streets of Rome. I couldn't believe it, and told him that if he sent me an image, I'd post it on Fujirumors. Now, he did. Here is Al Pacino captured through the eye of the X100S! Btw, he liked the eXperience tour a lot. Here is his feedback: (for those interested to participate, click here to know more – Italy only)
"Hi, just a quick feedback from the fuji eXperience tour in Rome. It has been a really nice experience, with the two "riflessifotografici" guys (Max & Donato) which are often featured on FR and some helpful fuji staff. There were x-pro1, x-e1 and x100s for testing, with many lenses. I only tried the x100s so I didn't notice if there was some other camera (x20?) [admin's note: I've asked the riflessifotografici-guys. They told me that there were a lot of X20, but they were snapped up like hot cakes!!!]. Fuji had picked a very nice location, with a lovely model for trying portraiture and in a wonderful place in Rome (Trastevere) for street photography.Furthermore, we found that Al (Pacino) had decided to take a stroll in Trastevere just right when we were snapping. So, a funny day. I recommend to everybody who is interested in the X system to try to attend to this kind of events.
My (very) first impressions: moiré is extremely well controlled, auto WB works great, write speed of SD cards can be an issue (mine was definitely too slow) and parallax can be tricky. I have shot jpeg + raw, I will try what LR 4.4 is really going to do for me.
After this hands-on test, I think that I will get an x100s :-)
Thanks for your site and keep up the good work!"
And here is Al Pacino!
best
Patrick
Fuji X100S: Amazon, Adorama, B&H, eBay Fuji X20: Amazon, Adorama, B&H, eBay
jpg straight out of camera
Francesco told me this shots reminds him the Beatles… True!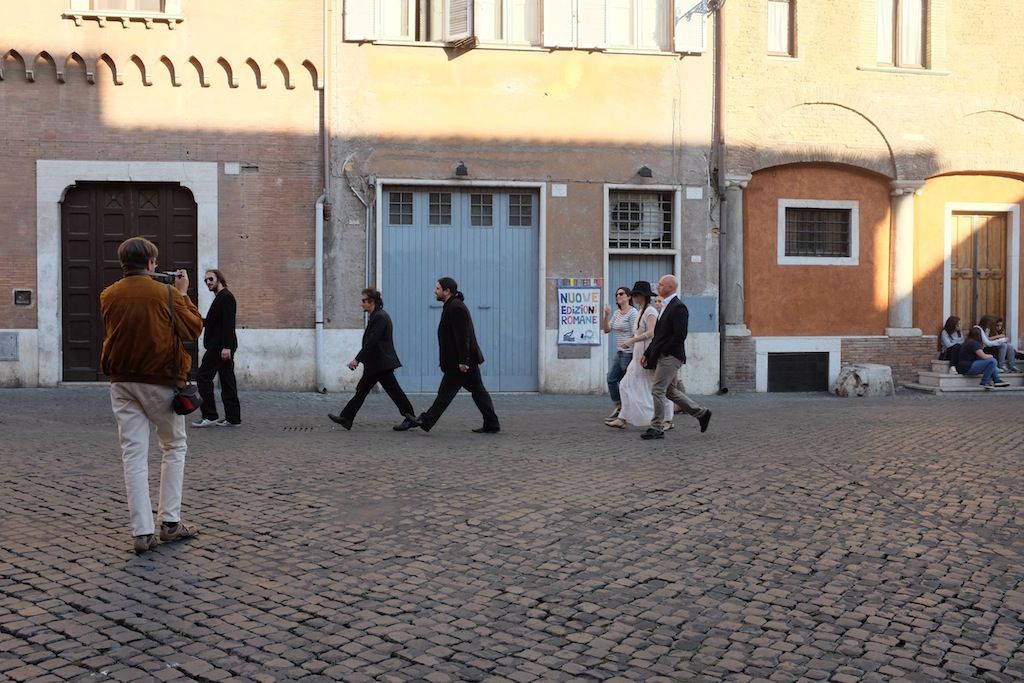 and here is Donato's shot (riflessifotografici)