Talk about the X + Kaizen
– X-Photographers David Hobby and Zack Arias talk about their experience with the X-series here. These two photographers were part of the expedition invited to Tokyo from Fujifilm in order to give them honest feedback about the X-series. The other two X-photographers were Bert Stefani and Kevin Mullins. I've already shared the 23mm first impressions of Bert (here) and David (here) on Fujirumors (for a great first look at the 23mm check Rico's X-pert corner post here). Now it's time to read what Kevin Mullins thinks about Fuji's Kaizen spirit (read his article here):
"See the guys in the blue shirts?  These are the people that design, manufacture, make, forge and breathe life into the X-Series of cameras. You know what they are doing here?  They are listening feedback from "us".   The guys that actually build the systems, design the software and produce the cameras that we use on a day to day basis are listening to our feedback.  Feedback that all four of us took to them from many hundreds of photographers."
– Also photographylife (click here) admires Fujifilms devotion to its customers and says:"Fuji has quickly become a manufacturer that feels involved with its clients more than any other camera maker no matter how well-known or popular. It feels as if they want to do good by their customers, as if you are using gear that real people design and improve, rather than a faceless company."
PhotoLive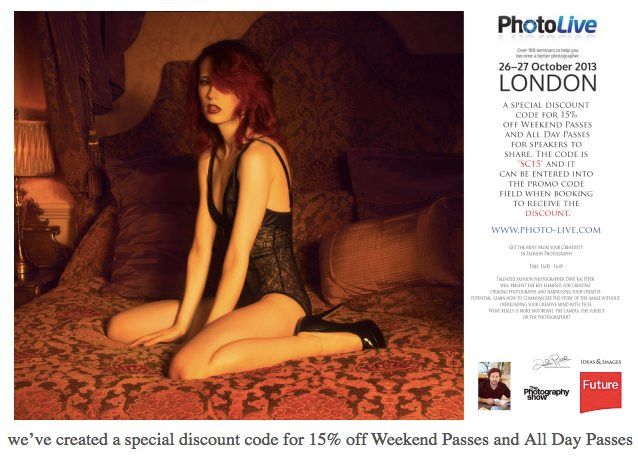 "Can you change your mental mindset and be a better photographer?  Come along to PhotoLive and sign up from a selection of over 200 seminars from 35 Pro Photographers and see what interesting tips can be picked up!!" If you are interested to learn from great photographers as Dave Kai-Piper then consider to participate to this seminar in London on the 26 and 27 of October. You can also profit from a discount. Dave Kai-Piper will tell you more about it here.
X-M1
– Bert Stefani's X-M1/16-50 review and lot of beautiful samples can be seen here: "So far this compromise, make the X-M1 the perfect companion for people on a budget who are looking for a small camera system with great image quality. But there's more, the X-M1 is not all compromise, it has two features that none of the other X-cams have: a tilting screen and build-in wifi. […] having the same sensor as my main camera, the X-Pro1, it is well suited as a backup camera. The extra functionality with the tilt screen and wifi, gives me extra options that my current backup camera, the X-E1, doesn't offer. […] About the 16-50 lens […] if you take the low price into account, I believe it's not a bad deal at all. The image quality is surprisingly good. It's a great starting all-round zoom for photographers on a tight budget. And if you add some better, more expensive lenses over time, it's still a good backup lens. […] Despite my initial reservations about the X-M1 I've decided to give it a permanent place in my bag where it will replace my hardly used X-E1 as my backup camera. "
– steves-digicams.com published an X-M1 review. From the conclusions:  "[…] The biggest drawback to the X-M1 is its high starting price of about $800 with the kit lens. You'll be able to find more powerful and more feature-rich DSLRs and ILCs for well under that price range. However many of those models cannot match the stylish look and feel of the Fujifilm X-M1. The X-M1 is small enough to be used comfortably one-handed, yet the camera has a sturdy build. It's a comfortable model to use, and even though the camera body is small, the buttons are of a good size and are easy to reach and press. This camera's image quality and performance levels are pretty good too versus other entry-level ILCs, although those aspects of the X-M1 aren't quite as impressive when compared to all models in its price range. You can shoot in RAW or JPEG with this camera, which is a feature that doesn't appear in every ILC model. The X-M1 does a very nice job with low light photos too, thanks to its popup flash and good performance at high ISO settings, as well as a large APS-C sized CMOS image sensor. […]"
X100S
– "In episode #3 of All About the Gear, Doug Kaye and I dive into the famed Fuji x100s camera. Find out if this little beastie lives up to all the hype, and if it's actually the perfect walk-around camera." See the episode here.
– Mike Kobal: "Yup, I was just as surprised as you probably are, I rarely find moiré to be an issue and here we have a good example, from the Fuji X100s, nonetheless. 100% moiré crop after the break." See the image here.
X-PRO1

– Comparing X-PRO1 and X-E1 at Tom Grill's website here.
– photgraphylife's in depth review of the X-PRO1 can be read here: "I have to praise Fuji engineers for going back and reworking the autofocus system of the Fuji X-Pro1 and fixing most of the issues via firmware updates. And I am happy to report that as of firmware 3.01, the Fuji X-Pro1 is a whole different camera compared to what it used to be. I was so frustrated with the autofocus system, that I practically disliked the camera just because of those issues. Autofocus speed has improved dramatically and AF accuracy has gotten a world better, even in low light situations."
– The Fujifilm X-Pro1 for Landscape Photography at stephenip.com. A great camera for landscape photography combined with the 14mm but "there is one thing about the X-Pro1 however, that I really, really don't like. The location of the tripod mount. For some reason, Fuji decided that it's unnecessary to access the battery or memory card when a tripod plate is mounted onto the camera. As someone that uses a tripod often, having to remove the tripod plate every time I want to charge the battery or download my images is extremely annoying. For a company that did so many things right in the usability department with the X Series cameras, an oversight like this is quite surprising.
– "X-Pro1, my take on it" at neillsoden.co.za:"I just love this camera, and can't state it enough. This camera and most of Fuji's cameras have been reviewed to death. This model has also been out for over a year, but I am going to add to it nonetheless. When I show it to people, their first response is always that they can get a DSLR for cheaper. Yes, it's more expensive than the entry to medium range of DSLR and a lot of them think that DSLR has better image quality and looks more professional."
– A wedding and more thoughts about the X-PRO1 at louwit.blogspot.dk
– A review of Fuji X-Pro 1 (ver 3.0) with 14mm lens can be read here at bigheadtaco: "If it's all about the image, then you will not be very happy with the Fuji X-Pro 1. Combine this with great ergonomics, the industry only hybrid viewfinder, and super sharp legendary Fujinon XF lenses, I think you have a winner."
– Shooting Beauty Portraits – Fuji X-Pro1 vs Canon 5D Mk2 Review at roughly365 here: "The more I use the Fuji, especially with the 35mm f1.4 lens, the more impressed I am with it, I love it. But, as I have stated in previous posts, I personally wouldn't have it as my main camera, but its the best second camera I can think of."
lenses
XF 27mm review at the Polish site optyczne here (translation).
dc.watch  took some shots with the XC 16-50. See them here (tranlsation).
… and some tips
– At thephoblographer you can read the "7 Tips for Photographing Strangers": 1) start with a complimet… to be continued here.
– "5 questions you should ask yourself to become a better photographer" over here at photographytalk.com. 1) Where is the light coming from. 2) Why am I shooting this… and more.
– lightroomkillertips explains how the previous button works in this video.
– 3 Ways to Improve Your Images With Composition at digital-photography-school.com:  1. Rule of Thirds / 2. Second Point of Interest / 3. Room for Copy Space
– Understanding your Cameras Histogram at ephotozine here.
– Architectural Photography Tips at photographytuts here.