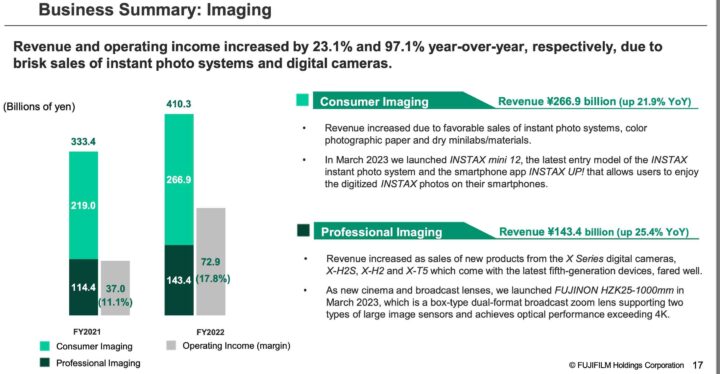 Fujifilm has released their final report for the fiscal year 2022 (April 2022 to March 2023).
The imaging division seems to be very healthy with a 23.1% revenue increase and a 97.1% operating income increase.
Keep in mind though, that the imaging division is divided in two sections:
It's safe to assume that the majority of the imaging division profits comes from Instax sales
But also the professional imaging department alone saw a revenue increase. In this regards, Fujifilm mentions the sales of the Fujifilm X-H2S, X-H2 and X-T5.
Strong sales of instant photo systems and digital cameras boosted overall revenue by 23.1% year-over-year to ¥410.3 billion and operating income by 97.1% year-over-year to ¥72.9 billion.

In the Consumer Imaging business, revenues increased due to strong sales of instant photo systems, color photographic paper and dry minilabs / materials. In March 2023, we launched INSTAX mini 12, the latest entry model of the INSTAX instant photo syste. We have also strated offering the smartphone app /NSTAX UP! that allows users to enjoy the digitized INSTAX photos on their smartphones.

In the Professional Imaging business, revenue increased as sales of new products from the X Series digital cameras, X-H2S, X-H2 and X-T5 which come with the latest, fifth-generation devices, fared well.
To remind you, this is the gear Fujifilm launched in 2022:
You can check out all the documents and reports at the dedicated Fujifilm page here.
Fujifilm Facebook Groups
Press Release and Slides