Meet the Dolomites, Home of FujiRumors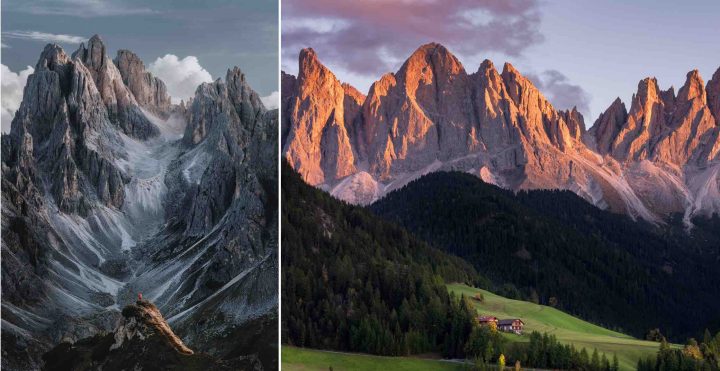 If you you think at Italy, my home, you probably think at Rome, Florence and Venice.
And in fact, probably 70% of the tourists coming to Italy, visit those three cities and leave.
But there are many more beautiful spots to visit here in Italy, and one of them is definitely my hometown, the Dolomites.
After I unveiled my location a couple of days ago here, I got a significant numbers of emails from readers, asking me information about the Dolomites. I tried to reply to everybody as good as I can.
One recurring question was: do I recommend visiting the Dolomites also to people, who are not so fit and used to mountains.
My answer is a very clear "absolutely yes!".
There are tons of cable ways, that bring you everywhere. For example, you can reach the highest peak of the Dolomites, the Marmolada, at 3,300m (10,800 feet) without walking a single step and enjoy views like this.
And if you are more on the adventurous side, of course there are tons of tracks and hikes of all kind of difficulties.
Old or young, single of family, fit or lazy, there is a lot ot enjoy for everyone.
Needless to say, also photographically speaking you are in paradise here, as the images below show.
So, if you ever plan a trip to Italy, try to put the Dolomites on your "to do" list.
I can't wait these days of lockdown and isolation to be over and get a beer on the Dolomites again.
Today I decided to go through our Fujifilm X-T and GFX group and pick a couple of images that members shared of the Dolomites, in the hope this article inspires you for you next photographic journey.
Stay safe, let's go through these challenging times together, and done that, enjoy life again as never before!
stay strong, healthy and happy
Patrick
Andrea Livieri
shared here
"THE NEST" – Dolomites Natural Park, 2019
ANDREA LIVIERI PHOTOGRAPHY
Cadini di Misurina are something unique. This group of mountain peaks is absolutely fabulous from whatever angle you view it. I shot this image last September during one of my Dolomites Photography Workshops and, especially in this location, the use of the telephoto lens is more than recommended.
The combination of long lens and camera-to-subject distance gives the viewer the impression that distant objects are larger than they actually are. As a result, it gives the appearance that the background has pulled in closer to the subject. The guy in the orange jacket standing on the ridge in front of the peaks works perfectly to emphasize the idea of scale.
TECH STUFF:
FUJIFILM X-T30 + FUJINON XF50-140MM F/2.8
ISO 160 – F/11 – 1/50SEC. – 75MM
#FUJIFILM #DOLOMITES
_ _ _
Mattia Kers Chersicola
shared here
The International Mountain Day…
Dolomites, Italy
xt2 + 10-24 and 16-55
_ _ _
Gerardo Troisi
shared here
📌Dolomiti , Italy 🇮🇹 🌏
📸Fujifilm XT-3 with 18/55 or 50/230
_ _ _
Furkan Tozlu
shared here
Fuji X-T3
Fujinon 10-24
Dolomites 🇮🇹
_ _ _
Mattia Kers Chersicola
shared here
Passo Giau. dolomites Italy
My page: Mattia Chersicola Photo
xt2+16-55 H&Y nd1000+ Balancer
_ _ _
Andrea Livieri
shared here
"THE SHIRE" – Dolomites Natural Park, 2019
ANDREA LIVIERI PHOTOGRAPHY
Another one from a wonderful misty morning in Alpe di Siusi, a scenario that bring to my mind the fantasy mood described in The Lord of the Rings. The Shire, a small but beautiful, idyllic and peaceful land.
TECH STUFF:
FUJIFILM X-T30 + FUJINON XF50-140MM F/2.8
ISO 200 – F/11- 1/30SEC. – 66MM (99MM ON FULL FRAME)
_ _ _
Furkan Tozlu
shared here
Fuji X-T3
Fujinon 10-24
Dolomites 🇮🇹
_ _ _
Andrea Livieri
shared here
"SERENITY" – Dolomites Natural Park, 2019
ANDREA LIVIERI PHOTOGRAPHY
Alpe di Siusi is by far one of the most compelling landscapes I've ever photographed. The weather conditions in this amazing plateau are so unpredictable and photographically speaking, every session is absolutely exciting. You never know what you get.
TECH STUFF:
FUJIFILM X-T30 + FUJINON XF50-140MM F/2.8
ISO 160 – F/5.6 – 1/100SEC. – 50MM (75MM ON FULL FRAME)
_ _ _
Eike Logé
shared here
Great Day in the Dolomites with the X-T2 and the 23 mm F2
_ _ _
Torsten Muehlbacher
shared here
In the Dolomites
Lonely Hiker
GFX 50R / Canon EF 17-40
_ _ _
Peter Friedman
shared here
Mountain Patterns #3 of the Dolomites
GFX50s GF250mm & 1.4 Teleconverter =350mm ISO 100 1/25th sect F16
_ _ _
Torsten Muehlbacher
shared here
Beautiful Dolomites
_ _ _
Peter Friedman
shared here
Fairytale Dreams, Dolomites, Italy
This from the book of "Nobody will think this is real, but it is."
GFX 50s GF 32-64mm at 46.5mm ISO 100 F11 3 images blended. 4 sec 8 sec 15 sec
_ _ _
Andrea Livieri
shared here
"DOLOMITES" – Dolomites Natural Park, 2019
ANDREA LIVIERI PHOTOGRAPHY
Today is the International Mountain Day, and has been celebrated annually since 2003. It's a great opportunity to create awareness about the importance of mountains to life. I consider myself very lucky to be able to do the work I do. Landscape Photography is something unique, it makes me feel so much connected to the world around me. The joy to be outdoor capturing some of the most amazing landscapes in the world is priceless.
To celebrate this important anniversary I want to share with you one of the last images I photographed in the Dolomites a couple of months ago. Here I was in Tre Cime di Lavaredo pointing my camera towards the north, and the light in the late afternoon was absolutely beautiful. Lots of light patches on the entire landscape, and the light on the Schwabenalpenkopf peak caught my attention. Lovely dramatic moody lights, my favorite!
TECH STUFF:
FUJIFILM X-T30 + FUJINON XF50-140MM F/2.8
ISO 200 – F/11 – 1/25SEC. – 50MM (75MM ON FULL FRAME)
_ _ _
Ahmed Gencal
shared here
Dolomites 110mm
_ _ _
Andrea Livieri
shared here
"THE SHIRE Part.3" – Dolomites Natural Park, 2019
ANDREA LIVIERI PHOTOGRAPHY
Sunset in Alpe di Siusi
TECH STUFF:
FUJIFILM X-T30 + FUJINON XF50-140MM F/2.8
ISO 160 – F/8- 1/6SEC. – 84MM (126MM ON FULL FRAME)
_ _ _
Andrea Livieri
shared here
"THE LONELY TREE" – Dolomites Natural Park
ANDREA LIVIERI PHOTOGRAPHY
Alpe di Siusi in the early morning, …this wonder of nature appears before your eyes.
TECH STUFF:
FUJIFILM X-T30 + FUJINON XF50-140MM F/2.8
ISO 160 – F/4- 1/50SEC. – 140MM (210MM ON FULL FRAME)
_ _ _
Andrea Livieri
shared here
"LOCATELLI" – Dolomites Natural Park, 2019
ANDREA LIVIERI PHOTOGRAPHY
The iconic Rifugio Locatelli in Tre Cime di Lavaredo. What a surreal place! I shot this image in the late afternoon when the light was still quite harsh but the sun was low enough to create a dramatic atmosphere. Where are Frodo & Sam? 🧙🏻‍♂️
Next Saturday I'll be in the Dolomites to lead the Winter Dolomites Workshop with my mate Andy Mumford. I'm really looking forward to shoot the snow-capped mountains.
You can follow the behind the scenes of our trip on my Instagram Stories ➡️ @andrealivieriphoto
TECH STUFF:
FUJIFILM X-T30 + FUJINON XF50-140MM F/2.8
ISO 160 – F/8- 1/125SEC. – 66MM (99MM ON FULL FRAME)
_ _ _
Andrea Livieri
shared here
"AT DAWN" – Dolomites Natural Park, 2019
ANDREA LIVIERI PHOTOGRAPHY
I shot this image last September during one of my Dolomites Photography Workshops. The location is one of my favorite ever, the Limedes lake. This time I wanted to try something different with the composition, avoiding to stay to focused on the usual wide-angle framing of the entire lake, and putting something different as foreground. Some beautiful bushes lit with beautiful backlights during the sunrise were the right choice to achieve a different interpretation of this wonderful location. Of course, an ultra-wide angle lens is required to emphasize the bushes and the small needles.
TECH STUFF:
FUJIFILM X-T30 + FUJINON XF10-24MM F/4
ISO 200 – F/8 – 1/400SEC. – 10MM
(BRACKETING 3 SHOTS AND MERGED IN LIGHTROOM)