LockCircle Cinematic X Cage for the Fujifilm GFX100S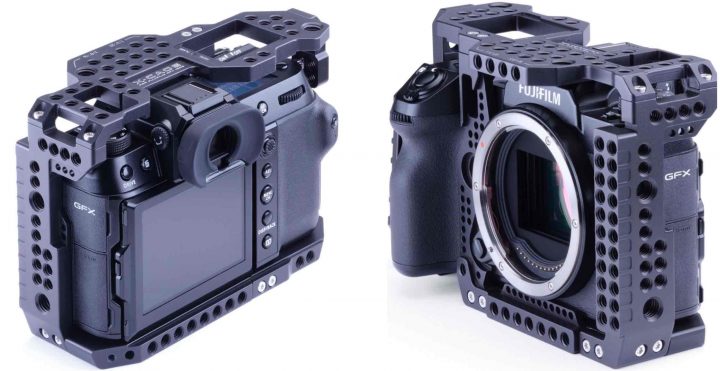 I own the Fujifilm GFX100S and it astonishes me every time with its image quality.
But so far I haven't shot a single video with it, and quite frankly, I think I never will.
However, that sensor, 70% fuller than full frame, is also astonishing video performer. Philip Bloom for example shot an entire documentary with the original Fujifilm GFX100. Gosh, some of you even mount a GFX camera on a drone for some epic areal footage!
And since the GFX system is flexible enough also for video work, there GFX cages out there, for example from Smallrig.
Now we have a new addition, coming from LockCircle, and it's made for the Fujifilm GFX100S. You can see some images above and you find the press release, details and links below.
This cage is designed for high end professional medium format cinematography. So if this is your thing, definitely check it out. And since the GFX50SII uses the identical body, I guess it would work on that one too. But I the GFX50SII does not shoot 4K video, so I guess it is not as an attractive video option as the GFX100S.
Press Release
Cinematic X-Cage for the Fujifilm GFX100s
The X-Cage is a new special LockCircle project designed to fit like a glove around the new powerful medium format Fujifilm GFX100s camera, to enhance the cinematic feeling when shooting motion pictures.
One of its features is the exclusive combination between ergonomics, that offers an unique handheld feeling and rigging for heavy-duty productions, without limitations, offering a serious protection for the camera.
Also the GFX100s, with the ultra compact design of the cage , can be used to shot stills without removing the cage itself, done to the tight design and lightweight offered by the sophisticated high-end manufacturing of the X-Cage.
The X-Cage offers 150 threads 1/4-20 and 7 threads 3/8-16 for multi accessories mounting like viewfinders, 4K HDMI Recorders, monitors and heavy-duty camera rigging requested by the film industry.
The X-Cage integrates, with the CineBlock interface mount, the original GX-PL Mount creating a monolithic rock solid cinematic production camera, perfect to shoot with premium grade PL-Mount optics.
The cage integrates the MultiPort HDMI / USB 3.0 / Audio connector port savers for serious camera protection and no signal loose when shooting in rough production enviroments.
The LockPort offers a 90 degree rear output full-size HDMI adapter for port protection when using monitors or 4K outboard recorders. The camera baseplate offers really secure mounting (no twisting) with 1/4-20 and 3/8-16 threads (Titanium Grade 5 camera screws supplied), the camera baseplate has front and rear 1/4-20 threads useful for other mounting applications.
The X-Cage is engineered for easy and quick ON-OFF camera mounting , locked by the bottom camera titanium screw. The X-Cage is available in Classic Black organic anodized finish, or in hard anodized (Mil-Spec) Dura-T (Tactical Grey) for uncompromising quality.
The cage is incredibly lightweight (245 gr- 8.6 o.z.), and has several threads to mount the (AC) tape measurement (titanium pin) hook at the exact sensor focal plane for serious focus-puller precision work.
An ultra lightweight MicroMega-M baseplate for stabdard 15mm rods is available also with the modular (joinable) 15mm Rod Rocket system, CNC machined from genuine Titanium Grade 5.
An Arri BP-8 Baseplate Adapter is engineered to interface the X-Cage with the universal Arri 19mm rods world of accessories, follow focus, aperture / focus motors and matteboxes.
X-Cage for Fujifilm GFX 100s features:
Sophisticated cage design for enhanced still and motion feeling
Easy ON-OFF camera mounting
Right hand camera grabbing optimized
Ultra lightweight cage, weight is only 245gr. – 8.6 oz.
150 threads 1/4-20 and 7 threads 3/8-16 for extreme rigging
Heavy-duty camera baseplate with 1/4-20 and 3/8-16 threads
CineBlock mount for original GX-PL Mount
Evo Top Grip handle, compatible with BoomBooster grip handle
Arri BP-8 Adapter Interface for 19mm rods system
CNC machined from billet aluminumC:\Users\PC\Pictures\index.php
Organic Black anodizing finish
Mil-A 8625 Type III (Mil-Spec) surface anodized (Dura-T )
Genuine Titanium Grade 5 knobs and screws
Camera control display full visible (shaped design)
MultiPort HDMI / USB 3.0 / Audio / Interface port savers
LockPort 90 degree rear full-size HDMI output
Genuine Modular Titanium Grade 5 Rods 15mm
Focal Plain thread for AC measurement hook (titanium pin)
MicroMega-M modular ultra-lightweight baseplate (15 rods)
Designed and manufactured in Italy (Lake Como) by LockCircle
You can check out more at lockcircle here.
The GFX Community
Follow FujiRumors: Facebook, Flipboard, Instagram, RSS-feed, Youtube and Twitter