Fujinon XF33mmF1.4 R LM WR ($799) vs XF35mmF1.4 R ($599) – My Thoughts and POLL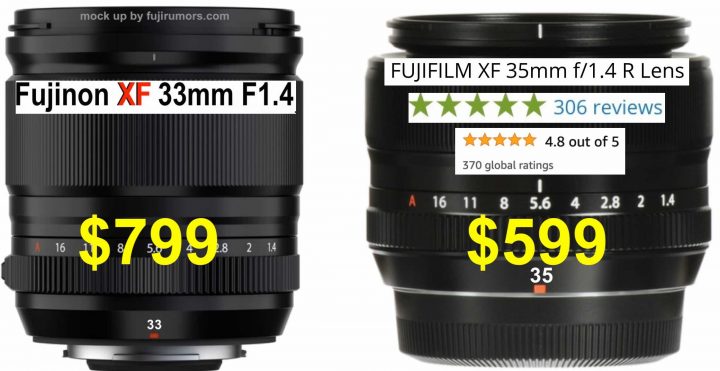 We already leaked the information that Fujifilm will release the Fujinon XF33mm R LM WR for $799.
Now, I expect this lens to be a fantastic performer: great build quality with weather sealing, fast and silent focus thanks to linear motor, nice features like the Aperture lock button and a fantastic optical performance.
But here is the thing: can it dethrone the little magical Fujinon XF35mm f/1.4 R from the X shooters heart?
I ask, because personally I am in love with the XF35mmF1.4. I use it a lot to take picutres of my son and it is always with me on travels.
Sure, the focus is rather noisy and not the fastest, but in my experience build quality is solid. I mean, I once had to jump with all my gear into the Mekong river to save my life, and all my gear died, expect for the XF35mmF1.4 (I told the story and where/why it happened here).
And looking at the customers reviews of the Fujinon XF35mmF1.4, I can safely say I am not alone to love this lens:
Now, I know it's early to launch survey, given that the Fujinon XF33mm f/1.4 R LM WR has not yet been announced.
However, we can expect it to be a stellar optical performer with fast autofocus and great build quality. And most importantly, we have the price: $799.
So my curiosity today is: are you interested to get the Fujinon XF33mm f/1.4?
Personally, I see both lenses as complementing each other. I have the XF35mm f/1.4 and love it. It's more affordable, it's nice compact, it has character. However, if I was a working Pro, I'd probably also get the XF33mm f/1.4 for faster autofocus and clinically good image quality. So, the 33/1.4 for my job, the 35/1.4 for my pleasure and free time.
But how do you guys see this? Feel free to vote the survey down below.

Loading ...
_ _ _

Loading ...