Fujinon XF 50mm f/1.0 Accurate Size Comparison with XF 56mm f/1.2 and XF 50mm f/2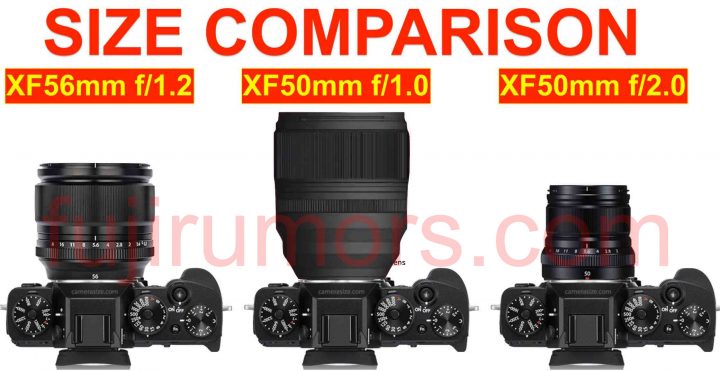 Fujinon XF 50mm f/1.0
As we reported here, for the sake of size and weight, Fujifilm canceled the Fujinon XF33mm f/1.0 from the roadmap and replaced it with a smaller Fujinon XF50mm f/1.0.
The new Fujinon XF50mm f/1.0 will be 35% smaller than the latest Fujinon XF33mm f/1.0 mock-up and also weight under 900 gram, as opposed to the 1.3 kg of the XF 33mm f/1.0.
So I thought I take the official Fujinon XF50mm f/1.0 images shared by Fujifilm here and compare its size with the Fujinon XF56mm f/1.2 and Fujinon XF 50mm f/2.
While this is as accurate as it gets, keep in mind that this is just an early prototype and the final version will surely see some changes.
According to the first results from our survey, you guys agree with Fuji's choice to change focal length in order to make the lens smaller and lighter.
XF90 vs XF50/1 vs XF16-55