Fujinon 16-55/2.8 vs Sony 16-55/2.8: Tony loves Sony's Corner Performance, others Hate it, and Why the Fujinon is Bigger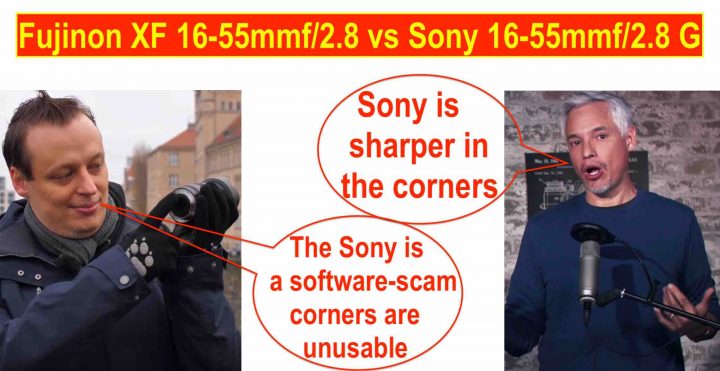 Sony vs Fuji lenses
DISCLAIMER: don't get mad at me. I just report what reviewers say. And I believe it makes sense to report it all

Are you ready? Let's go!
In his latest video, Tony Northrup says that at the wide end the Sony 16-55 f/2.8 G is sharper than the Fujinon XF16-55mm f/2.8 in the corners, whereas German youtube channel ValueTechTV goes so far to ask himself if, at the wide end, the new Sony lens performance can be called a "software-scam".
Why?
ValueTechTV (German video below) says that it has a brutal vignetting at 16mm, and he believes this could be due to the light hitting the last plastic part of the lens, hence projecting a strong black area in the corners (screenshots below).
So, if not heavily digitally corrected, the image in the corners results totally unusable.
Now, since the digital correction information is baked into the EXIF, when you import your file into Lightroom or Capture One, you don't notice it, as it is completely corrected already.
But ValueTechTV says, that, due to the heavy correction and crop that the camera applies, you end up using only 18 or 20 megapixel, and not all 24 megapixel of the camera. In the comments ValueTechTV also says that after correction it's more of a 17mm lens at the wide end.
They end up saying:
Are you serious? I should pay over $1,000 to get a lens that is unusable at the wide end, if not used with heavy software correction? […] I don't understand what Sony was thinking, when they released a $1,400 lens so weak in the corners at the wide end.
Well, I believe that this could explain why the Fujinon XF16-55mm f/2.8 is bigger than the Sony 16-55 f/2.8 G: you don't get those unusable corners that require massive correction, cropping, and software magic.
And now to Tony Northrup.
He reviewed several common Sony and Fuji APS-C lenses to determine which is sharper and the better value.
He compares:
Sony 16-55 f/2.8 G ($1,400) vs Fujifilm 16-55 f2.8 ($1,200)
WIDE END
No big difference
more corner sharpness on the Sony [keep in mind what ValueTechTV said above]
more moirè on the Sony (indicator of more sharpness)
LONG END
no big difference in center of frame
some artifacts in the Fuji images, due to Lightroom processing of Fuji X-Trans files
X-Trans is odd
Tony ends up saying that both lenses are very good, but the more expensive lens (Sony) wins, says Tony Northrup. And let me add also the 4 years newer and more modern Sony lens.
FujiRumors recommends Tony to try Capture One. FujiRumors switched to C1 and wrote an objective article about the Pros and Cons of X-Trans here.
Sony E PZ 16-50mm f/3.5-5.6 ($300) vs Fujifilm XF18-55mm f/2.8-4 ($700)
wide end not really difference
long end if you really pixel peep, at the corners the Sony lens holds up better [Lightroom has been used]
the Fuji can work better in low light
Tony says the Sony lens costs $145, but I don't see that price at BHphoto.
Sony 55mm f/1.8 ($1,000) vs Fujifilm 56mm f/1.2 ($1,000)

Sony lens is designed for full frame
Fujifilm is significantly sharper
Fujifilm is sharper in the corners
Fuji lens was designed for APS-C
Sony 70-200 f/2.8 GM ($2,600) vs Fujifilm 50-140 f/2.8 ($1,600)

the Sony lens is a full frame lens
at 70mm similar results
at 140mm very similar again [Lightroom has been used]
With the lenses used above, the Sony system is more expensive than the Fujifilm system. Tony calculates $2,000 more for the Sony system.
Seems like with APS-C you get quality for much less money, an intuition Fuji X Shooters had already a long time ago ;).
Follow FujiRumors on Facebook, Flipboard, RSS-feed, Twitter, Youtube and Instagram