Fujifilm X-T4 vs X-T3 vs X-H1 – The Complete Specs Comparison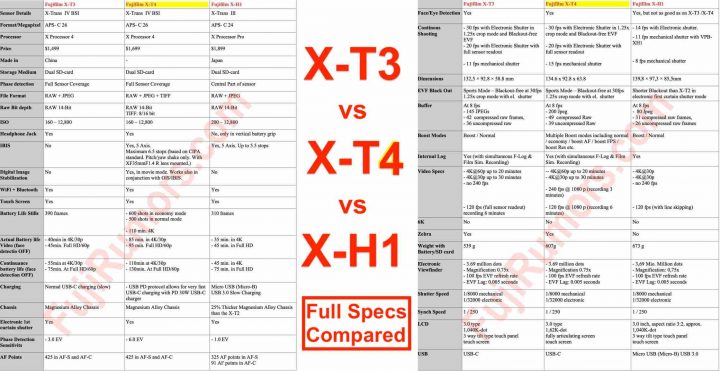 Our original specs comparison was already almost complete, thanks to the amazing support of our sources.
But now that nokishita leaked the full specs, will can fill in the last gaps in the specs sheet comparison, and we can see that we were spot on with out rumors.
Also, this specs sheet contains additional information, not leaked by nokishita yet, like the fast charging option, the price of the Fujifilm X-T4 and the fact that DIS will work in conjunction with OIS and IBIS.
So, let's rock it now. Check the full comparison below.
Join FujiRumors on Patreon, Facebook, Instagram, RSS-feed, Youtube, Flipboard and Twitter
→ Top X-T Community: Fujifilm X-T facebook group
→ Top X-T Page: Fujifilm X-T Page
Specs Comparison