Fujifilm X-T4 Video Autofocus Tested: Can You Trust it? Settings Nightmare, Inconsistency and Which XF Lenses Are Best for It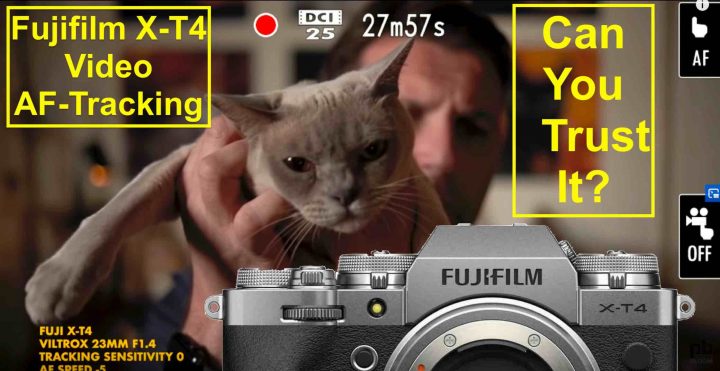 UPDATE: I have just been contacted by FR-readers, and I have been told that the latest firmware 1.02 for Fujifilm X-T4 improved autofocus during video with older lenses. Philip's video was recorded before that. Would be fantastic if Philip could repeat the test to verify that.
Philip Bloom wonders, can you trust the Fujifilm X-T4 autofocus for video?
In my opinion, Philip did a great job, and this video is very helpful to figure out which lenses are best for video autofocus tracking and especially which settings are best for which lens.
Before the usual video summary, for those of you, who have no time to watch it right now, I'd like to highlight a few things from the video:
inconsistency: Some lenses work very well and reliably (such as the XF16-55mmF2.8), other were a complete nightmare (for example XF56mmF1.2)
settings nightmare (AF speed + Tracking sensitivity): some settings work great on a certain lens, but use the same settings on another lens, and you get totally different results. You must hence fine tune the settings differently for each lens
older lenses: older lenses are clearly not designed for video autofocus. Newer lenses work better
pulsing & jumping: that's an issue that occurs with many XF lenses. On some lenses you can mitigate it a lot by changing settings
Confusing Settings: with AF-Speed, the higher you set the number, the faster the AF speed (logical). With tracking sensitivity, the higher the number, the slower it is (not logical).
Eye AF: can lose eye easily, especially if you wear glasses
Internal vs External recording: Record externally, and you have terrible results. Better record internally for best video autofocus
Overall: X-T4 is a fantastic camera (in fact his favorite camera close after the GFX100) and has all the power it needs for great video AF, but it's the lenses that are holding it back for video AF.
I feel like lots of this is something that Fujifilm could improve via firmware update, even with older lenses, and I am confident Fujifilm will.
I personally used the XF18-55mm a lot for my teaching-vlogging, and it worked well on my X-T4. And in fact the 18-55 is one of the lenses that performed best in Philip's tests.
Down below you'll find the summary and the video, so you can see which lens worked best and which settings he recommends.
Philip Bloom did well to highlight all this, and of course here on FujiRumors we report about it, as I believe this is valuable feedback for Fujifilm.
FujiRumors is on Patreon, Facebook, Instagram, RSS-feed, Youtube, Flipboard and Twitter
→ Top X-T Community: Fujifilm X-T facebook group
→ Top X-T Page: Fujifilm X-T Page
The Complete Video Summary
X-T4 is best video autofocus he has seen on only Fujifilm camera
quite easy to lose the eyes
with glasses, eye AF has problems to detect the eye
with the XF35mm F2, the autofocus tracking does not seem to be solid. There is pulsing. It looks uncertain
he spent 4 hours testing the video face/eye tracking, and it was very frustrating
some lenses worked better than others, but what was really frustrating was that the same lenses sometimes worked well, and sometimes not, with no real reason for it
the Fujicrons worked better, but not always consistently good
one of the best primes was the XF16mmF1.4. He got nice results with sensitivity set to maximum and AF speed to minimum [sensitivity 0 is the fastest, whereas +1, +2… is slower]
depending on the autofocus setting speed you set, you get more or less pulsing. Slower AF transitions, but more natural looking, with less pulsing
with tracking sensitivity set to +2 he got that pulsing and jumping, but set to +1 he already got much better results
the by far most impressive and reliable lens was the Fujinon XF16-55mmF2.8. Smooth and solid results, best behavior
also the XF90mmF2 worked well
the 56mmF1.2 was awful
35/1.4 sometimes he got OK results, but only OK
18-55 kit lens surprised him positively too
his takeaway for best results: keep tracking sensitivity on the far side and make sure that autofocus speed isn't too fast (for example set it at -1 or -2), because the lenses are designed for stills, where they need to snap on the subjects fast, but that's not what you need for video autofocus
after his testings he was absolutely annoyed
Viltrox AF lenses are good in tracking the face, but they are not good in doing anything subtle, for example when he moves hand in front of his face, the autofocus jumps quickly, and then jumps fast back to face when hand is removed, and there is pulsing, even with AF speed set to -5.
Setting AF speed to -5 gives different results based on lenses. The XF23mmF2 is painfully slow at -5, the 60mm is OK
settings, settings, settings!
keep tracking sensitivity as high as possible during interviews, because there won't be many things distracting your camera. When you have things moving across the frame, take down tracking sensitivity a bit
You want to the tracking sensitivity, but do not set AF speed too fast, or you'll get nasty jumping. By having it slow, it is constantly reacting and never playing catch up which makes things look ugly
the Fujicron WR lenses have similar performance, but with other Fujinon lenses the performance is so different, that you must drastically change the settings for each lens. Best make notes for ideal settings for each of your lenses
you get best video autofocus performance only if you record internally. Record externally it's not nearly as smooth as recorded internally
Fujifilm has confusing settings: with AF-speed it makes sense, because the higher the number, the faster the AF. But with tracking sensitivity it's the other way around: the lower the number is the fastest, the higher number is the slowest
the XF16-55mmF2.8 performs great. It has linear motor. But he got some not so great performance with some linear motor lenses, and better results with some stepping motor lenses
the really older nice and fast primes of Fujifilm are not designed for video autofocus
he feels the video AF technology inside the camera is actually pretty good, but lenses are holding it back
he loves the X-T4, a fantastic camera with great features. The best camera ever made for him is the GFX100, but the X-T4 is close second place.
FujiRumors is on Patreon, Facebook, Instagram, RSS-feed, Youtube, Flipboard and Twitter
→ Top X-T Community: Fujifilm X-T facebook group
→ Top X-T Page: Fujifilm X-T Page