Fujifilm X-T3 USA Pre-Orders AVAILABLE NOW with $130 SAVINGS on Grip Bundle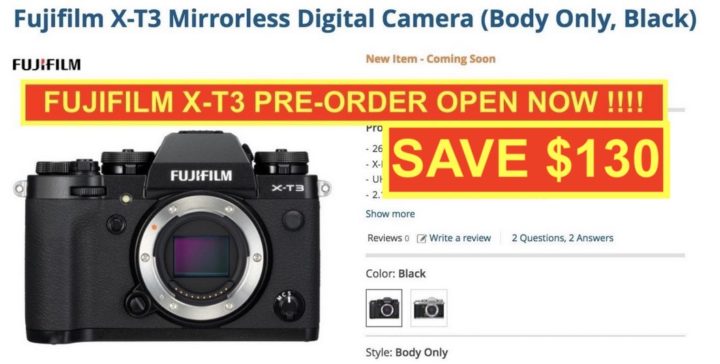 Fujifilm X-T3 Pre-order and Launch Deal
The Fujifilm X-T3 is finally available for pre-order. Order now and be high on the waiting list. Expected shipping is September 20.
There is also a launch deal: get the Fujifilm X-T3 body or kit with vertical battery grip, and save $130.
I have already so much Fuji gear, but the X-T3 is a tempting beast to add to my collection.
Fujifilm X-T3
Fujifilm X-T3 body: BHphoto, AmazonUS, Adorama, Focuscamera
Fujifilm X-T3 + 18-55: BHphoto, AmazonUS, Adorama, Focuscamera
Fujifilm X-T3 Accessories
VG-XT3 Vertical Battery Grip: BHphoto, AmazonUS, Adorama
MHG-XT3 Metal Hand Grip: BHphoto, AmazonUS, Adorama
BLC-XT3 Bottom Leather Case: BHphoto, AmazonUS, Adorama
CVR-XT3 Cover Kit: BHphoto, AmazonUS, Adorama
RR100 Remote Release: BHphoto, AmazonUS, Adorama
Fujifilm XF Lens Sale
Fujinon Prime Lenses
XF 14mmF2.8 (save $150): BHphoto, AmazonUS, Adorama, FocusCamera
XF 16mmF1.4 WR (save $150): BHphoto, AmazonUS, Adorama
XF 18mmF2 (save $50): BHphoto, AmazonUS, Adorama, FocusCamera
XF 23mmF1.4 (save $100): BHphoto, AmazonUS, Adorama, FocusCamera
XF 23mmF2 WR (save $50): BHphoto, Adorama, AmazonUS
XF 27mmF2.8 (save $50): BHphoto, AmazonUS, Adorama, FocusCamera
XF 35mmF1.4 (save $50): BHphoto, AmazonUS, Adorama, FocusCamera
XF 35mmF2 WR (save $50): BHphoto, AmazonUS, Adorama, FocusCamera
XF 50mmF2 WR (save $50): BHphoto, Adorama, AmazonUS
XF 56mmF1.2 APD (save $100): BHphoto, AmazonUS, Adorama, FocusCamera
XF 56mmF1.2 (save $150): BHphoto, AmazonUS, Adorama, FocusCamera
XF 60mmF2.4 (save $50): BHphoto, AmazonUS, Adorama, FocusCamera
XF 80mmF2.8 OIS WR (save $150): BHphoto, AmazonUS, Adorama, FocusCamera
XF 90mmF2 WR (save $150): BHphoto, AmazonUS, Adorama, FocusCamera
Fujinon Zoom Lenses
XF 10-24mmF4 OIS (save $150): BHphoto, AmazonUS, Adorama, FocusCamera
XF 16-55mmF2.8 WR (save $200): BHphoto, AmazonUS, Adorama, FocusCamera
XF 18-55mmF2.8-4 OIS (save $100): BHphoto, AmazonUS, Adorama, FocusCamera
XF 18-135mmF3.5-5.6 OIS WR (save $100): BHphoto, AmazonUS, Adorama, FocusCamera
XF 50-140mmF2.8 OIS WR (save $200): BHphoto, AmazonUS, Adorama, FocusCamera
XF 55-200mmF3.5-4.8 OIS (save $100): BHphoto, AmazonUS, Adorama, FocusCamera
XF 100-400mmF4.5-5.6 OIS WR (save $300): BHphoto, AmazonUS, Adorama