Fujifilm X-T3 (Silver) Marked as Discontinued: Let me Explain What's Going on!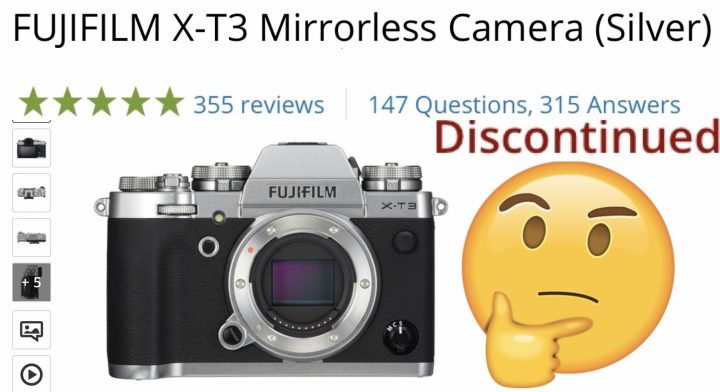 There is a bit of confusion regarding the Fujifilm X-T3, as the silver X-T3 is marked as discontinued at BHphoto.
So let's say two things first:
Now, many would have expected the Fujifilm X-T3 to be quickly discontinued after the launch of the Fujifilm X-T4, but so it wasn't. The X-T3 remained a pretty successful camera for Fujifilm also after the launch of the X-T4.
What Fujifilm did, though, was to rationalize production a bit. So they reserved most of the bundle options for the X-T4 and few only for the X-T3 (as we reported here).
Also, recently, in order to simplify sales, Fujifilm removed the battery charger from the box and called it the X-T3 WW (where "WW" stands for worldwide). Different market would require different plugs, some markets even banned chargers due to environmental issues.
This move saves Fujifilm time and money and the savings tumbled down to us customers making it even more affordable than the "normal" X-T3 when discounted.
And in fact, just as of now, you can pre-order the Fujifilm X-T3 WW, which will start shipping on January 13.
But here is the thing:
In order to rationalize and simplify as much as possible (and hence make the X-T3 as affordable as possible), Fujifilm offers the X-T3 WW only in black (you can't pre-order it in silver as it doesn't exist).
Conclusion: the Fujifilm X-T3 is not discontinued. In fact you can pre-order it right now and get it shipped in a few days. Only the silver X-T3 seems to be no longer in production, not even in its X-T3 WW variation. But the black X-T3 is here to stay for still quite a while, don't worry.
But you can still find some silver X-T3 samples around, for example AmazonUS has a few left here and Adorama is seeling some bundled with a lens.