Fujifilm X-Pro3: Top 10 Things You Might have Missed – Post Launch Coverage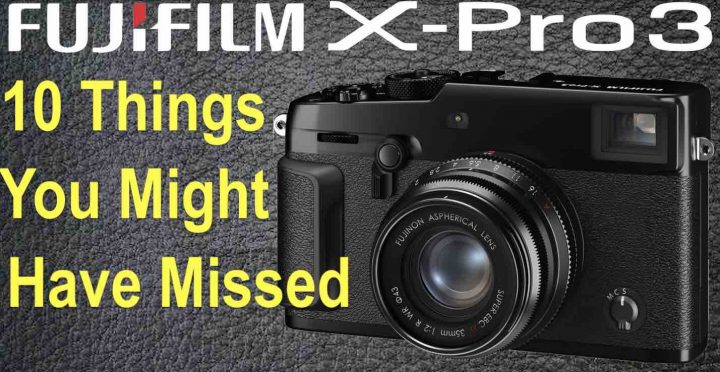 What a massive live blogging that was!
So many X-Pro3 first looks have been shared on the web, and we collected them all in our epic live blogging or read the full press release here.
And while we all know about the bigger and better hybrid viewfinder, the new computational photography features, the hidden LCD screen and so forth, I thought that in due to the huge flood of information I pick out a 10 things, that you might have missed.
They all come from the various first look reviews we have collected here:
The little sub monitor on the back of the X-Pro3 screen screen is not backlit. Hence difficult to see in the dark. On the other hand, it distracts you less in low light
front dial no longer clickable
the DURA X-Pro3 versions are fingerprint magnets, but Lee Zavitz says it gives it an extra retro touch that people could actually like… and the extra coating keeps scratches off
if you use adapted lenses, you can now name the lens in camera, and that name will be stored into the EXIF data
focus peaking now offers a yellow overlay option
six customizable buttons (including AE/AF lock and q button that can be assigned to something else) + four swipe functions on screen
the new HDR computational photography feature works handheld. It stitches the JPEGs automatically, but also saves the RAW files so you can stitch them together by yourself in post
New focus bracketing interface: determine your far and near frame, and camera automatically detects how many frames it needs to shoots based on your aperture and focal length
X-Pro3 can output tiff files in 8 or 16 bit via interal RAW converter
Q menu can be transparent, so you see the effect of the changes you apply in real time. Also, the Q-menu isn't locked to the dedicated Q button anymore, and can be assigned to whatever you wish
Maxiumum 4K @ 30P at 4:2:0 F-log in 10 bit (like X-T30). No HDMI output. Continuous shooting speed of X-T3
the EVF improvements influenced negatively the OVF: Instead of having the X-Pro2 0.36x and 0.60x magnification modes, the X-Pro3 splits the difference with a fixed 0.52x magnification
Turns out we have 13 points ;).
Fujifilm X-Pro3: BHphoto, AmazonUS, Adorama, FocusCamera
Follow FujiRumors: Facebook, Instagram, RSS-feed, Youtube, Flipboard and Twitter
images via dc.watch