Fujifilm X-Pro3 Leather Cases from KAZA, GARIZ and ARTISAN&ARTIST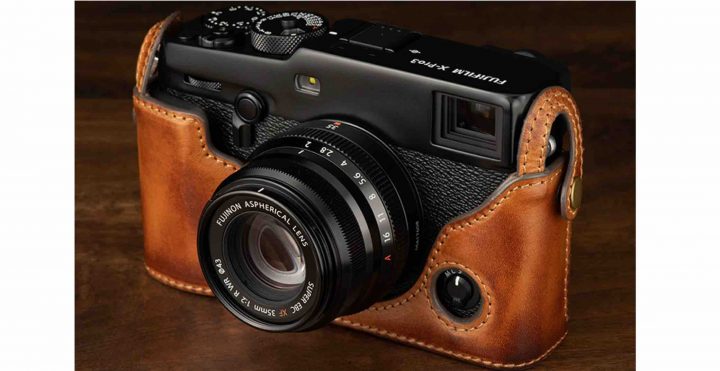 We have recently reported about the GARIZ leather case for Fujifilm X-Pro3, which is already available in black here, in brown here and in camel here.
But more options are available, that you can see down below.
KAZA Fujifilm X-Pro3 Leather Half Case
Oriental Hobby Co., Ltd. released "KAZA FUJIFILM X-Pro3 exclusive half leather case" as a new product of KAZA on March 31. The selling price is 12,100 yen including tax.
Two colors are available: vintage brown and vintage green.
This product is a half leather case made exclusively for Fujifilm's mirrorless camera "FUJIFILM X-Pro3". The memory card slot cover and terminal cover are intentionally covered with leather, and features a design that prioritizes camera protection.
The tilt-type LCD monitor can be moved up to 90 degrees even with the case attached.
In addition, the bottom is equipped with a battery cover opening and a speaker opening. The inside diameter of the case mounting screw is 1 / 4-20UNC specification, and a tripod can be mounted.
External dimensions (approx.): 147 × 90 × 46mm
Weight (approx.): 54g
Material: Body: Genuine leather, Lining: Synthetic leather
The case will soon be available at AmazonUS here and eBay here.
via dc.watch
ARTISAN&ARTIST Fujifilm X-Pro3 Leather Half Case
Artisan & Artist Co., Ltd. will release the FXB-XPRO3 body case for Fujifilm's mirrorless camera "FUJIFILM X-Pro3" on March 28. The suggested retail price is 15,000 yen excluding tax.
This product is a body case that enhances holding power with a trapezoidal shape grip (reinforced with aluminum frame) that is conscious of the curve of the finger. An opening is provided on the back, and the movable monitor opens in a practical range (about 135 degrees). The material is Italian leather.
Attach to the camera with a tripod screw. There is a tripod screw hole on the bottom of the case, which can be attached to a tripod with the case attached. However, it is necessary to remove the case when replacing the battery.
External dimensions: 150 × 70 × 42mm
Weight: 70g
Material: Cowhide (Italian leather), Polyester (lining)
via dc.watch