Fujifilm X-Pro3 Ideas, Wish Lists and Hopes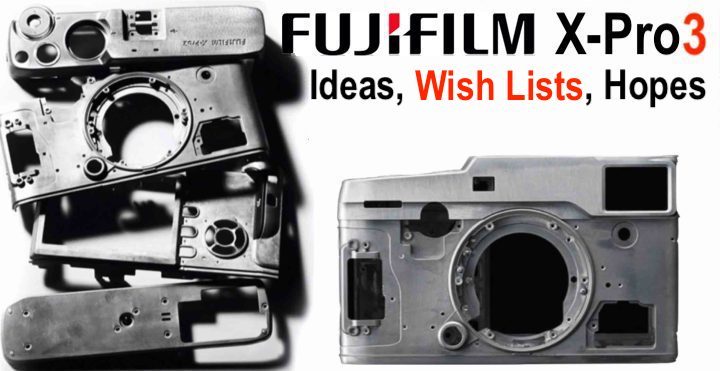 Fujifilm X-Pro3
Here on FujiRumors we already told you back in March, that the Fujifilm X-Pro3 will come in 2019.
We also told you that it will probably still be made in Japan.
Our rumors triggered wishes, hopes, ideas around the upcoming Fujifilm X-Pro3, and I would like to share some of them here on FujiRumors.com. Check them out down below.
*** Mega Fujifilm GFX 100 Live Blog on FujiRumors – May 23 ***
Fujifilm X-Pro3 Ideas at adambonn:
Hybrid viewfinder improvements
three levels of magnification
top plate controls changes

New Placement for On/Off Switch (a bit like on a LX100)
In-Built Adjustable 2thumbs-up" Grip
Metering Mode switch beneath the SS dial (a bit like on a X-T1)
Drive Mode switch under the Shutter Button
Dedicated ISO thumb wheel with display via a top plate window

Flippy screen
Dear Fujifilm, will you make me happy? at barbano:
keep the ISO/Shutter speed dial exactly as it is
lock on the diopters dial
add a switch so I can turn on the camera on a personalized setting without looking at the menus.
What We Hope Will Be in the Fujifilm X-Pro 3 at phoblographer:
better battery life
keep hybrid viewfinder
EVF with higher resolution
tilt/flip touch screen
more film simulations
Follow FujiRumors on Facebook, Flipboard, Youtube, Instagram, RSS-feed and Twitter
Rumors & Community

Stay in the Loop