Fujifilm X-Pro2: Lossless RAW Compression :: 273 Focus Points :: Improved Noise Reduction :: Grain Effect + More Specs!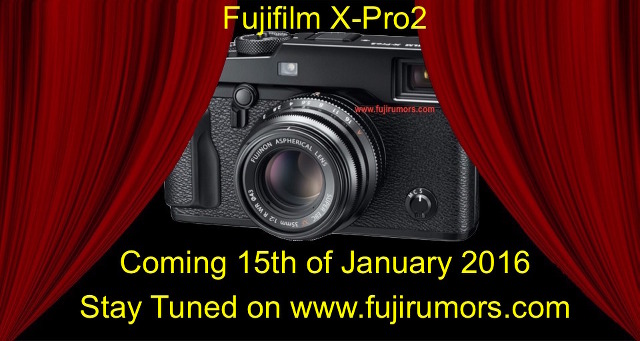 ↑ Fujifilm X-Pro2 ↑
More Leaked Images Here
_ _ _
Let's start 2016 in the same way as 2015 ended: with lot's of rumors :-) . So here are more X-Pro2 specs:
lossless RAW compression
273 Focus Points
Improved Noise Reduction (sounds like we are going to get rid of waxy skin tones at high ISO in jpeg's ;) )
Pixel Mapping
Grain Effect
New Menu Interface
The X-Pro2 will use Fujifilm NP-W126 batteries (for the best cheap 3rd party batteries, check out this post).
EXR III processor will get the much cooler name "X-processor".
And just in case you had a good & fun time here on Fujirumors with all the rumors in the last months, feel free to support my rumor work on January 15, by purchasing the X-Pro2 using one of the links to stores I'll share here on Fujirumors. You will not pay a singly penny more on your X-Pro2, but a small commission is valued back to Fujirumors.
Your support could allow me to keep this blog open also in 2016.
stay tuned,

Fuji X Forum, Facebook, RSS-feed and Twitter
Fuji X100T black [shoplink 41245 ebay]save $420[/shoplink] Fuji X100T silver [shoplink 41244 ebay]save $351[/shoplink] Fuji X-T10 silver kit (16-50) [shoplink 41275 ebay]save $211[/shoplink] Fuji X-T10 black kit (16-50) [shoplink 41251 ebay]save $211[/shoplink] Fuji X-T1 Graphite body [shoplink 41252 ebay]save $496[/shoplink] Fuji X-T1 Graphite body [shoplink 41272 ebay]save $495[/shoplink]
XF 16-55mmF2.8 [shoplink 41246 ebay]save $326[/shoplink] XF 23mmF1.4 [shoplink 41247 ebay]save $280[/shoplink] XF 50-140mmF2.8 [shoplink 41250 ebay]save $300[/shoplink]
Fujifilm X-Pro2 Rumored Specs
TRUSTED (TS)
– APS-C sensor (TS + AS + AS)
– 1/8000 of a second mechanical shutter speed (TS + AS)
– Joystick for quick AF-point slection (TS)
– Exposure Compensation Dial with "C" function for exp.comp from +5 to -5) – (TS)
– Combined ISO/Shutter dial, with little window on shutter dial to show ISO value (TS + SRP)
– coming late 2015 (TS + AS)
– delayed to 2016 (TS)
– Coming after CES (TS)
– Announcement on 15th Janaury 2016 (TS)
– weather sealed (TS)
– 4K video (TS + NeS)
– No 4K for the X-Pro2 in Jan. 15 (TS)
– Faster Processor EXR III, but it will get the "cooler" name X-processor (TS)
– No Tilt Screen (TS + AS)
– No IBIS (TS)
– lossless RAW compression
– 273 Focus Points
– Pixel Mapping
– Grain Effect
– New Menu Interface
– Fujifilm NP-W126 batteries
– Improved Noise Reduction
SOURCE RIGHT IN THE PAST (SRP)
– Black & White Acros Film Simulation (SRP)
– Sync Speed faster than 1/180th (SRP)
– coming in January 2016 (SRP)
NEW / ANONYMOUS SOURCE (NeS – AS)
– ISO200-12800 (AS)
– 1/250 flash sync speed (AS)
– more than 200 AF points (2/3 are PDAF) – (AS)
– Hybrid EVF as X100T (AS)
– 24MP sensor (AS + AS) – More than 16MP (AS)
– about the same size of current X-PRO1 (NeS)
– dual SD card slot (NeS + AS + AS)
– tilt screen (AS)
– WiFi (AS)
– Price about 20% to 30% more expensive than the X-T1 (AS) – Note: X-T1 regular price $1,300. Add 30% to it and you get $1,700
– Two X-PRO2 version, one 24MP APS-C and one 25-27 MP APS-X, compatible with XF/XC lenses (NeS + OS)
OTHER SITES (OS)
– coming September / October (OS + OS)
– Non organic APS-C X-Trans sensor (OS)
– smaller than X-PRO1 (OS)