FUJIFILM X-PRO2: Specs Leaked by digicame-info (all FR-rumored specs confirmed)!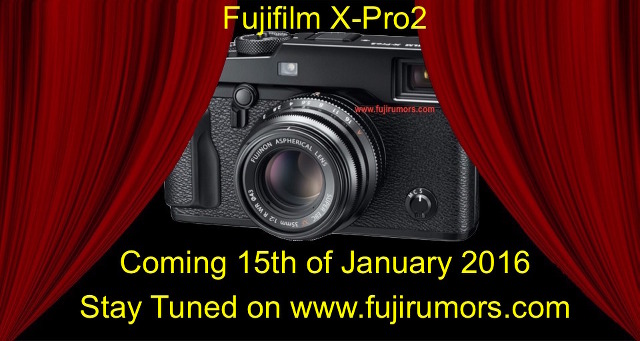 ↑ Fujifilm X-Pro2 ↑
More Leaked Images Here
_ _ _
The Japanese site digicame-info was able to get his hands on the X-Pro2 specs. All the rumors shared here on Fujirumors in the last months are confirmed (latest leak here).
– 24.3MP X-Trans CMOS III sensor
– Image processing engine X Processor Pro
– Faster than has been AF, low noise, excellent color reproduction
– Magnification automatic switching function equipped with advanced hybrid multi viewfinder
– The fastest shutter mechanical shutter 1/8000 seconds, electronic shutter 1/32000 seconds
– Synchro 1/250 sec
– Intelligent hybrid phase difference AF. AF point is 273 points
– Body of lightweight magnesium alloy. Dust and water specification
– LCD monitor three inches 1.62 million dot
– Dual SD Card slot (UHS-II compatible)
– ISO range of 200-12800
– Film Simulation mode 16 with the new ACROS
– Menu is new design. Customizable. My Menu function
– Lossless compression 14bit RAW
– Wi-Fi remote shooting
– Exposure compensation +/- 5 stage
– Interval Shooting
– Video Full HD 60fps
– 13 kinds of creative filter
– The battery is NP-126W. The number of remaining shots is 350 sheets
Fujifilm X-Pro2 Rumored Specs
TRUSTED (TS)
– APS-C sensor (TS + AS + AS)
– 1/8000 of a second mechanical shutter speed (TS + AS)
– Joystick for quick AF-point slection (TS)
– Exposure Compensation Dial with "C" function for exp.comp from +5 to -5) – (TS)
– Combined ISO/Shutter dial, with little window on shutter dial to show ISO value (TS + SRP)
– coming late 2015 (TS + AS)
– delayed to 2016 (TS)
– Coming after CES (TS)
– Announcement on 15th Janaury 2016 (TS)
– weather sealed (TS)
– 4K video (TS + NeS)
– No 4K for the X-Pro2 in Jan. 15 (TS)
– Faster Processor EXR III, but it will get the "cooler" name X-processor (TS)
– No Tilt Screen (TS + AS)
– No IBIS (TS)
– lossless RAW compression
– 273 Focus Points
– Pixel Mapping
– Grain Effect
– New Menu Interface
– Fujifilm NP-W126 batteries
– Improved Noise Reduction
SOURCE RIGHT IN THE PAST (SRP)
– Black & White Acros Film Simulation (SRP)
– Sync Speed faster than 1/180th (SRP)
– coming in January 2016 (SRP)
NEW / ANONYMOUS SOURCE (NeS – AS)
– ISO200-12800 (AS)
– 1/250 flash sync speed (AS)
– more than 200 AF points (2/3 are PDAF) – (AS)
– Hybrid EVF as X100T (AS)
– 24MP sensor (AS + AS) – More than 16MP (AS)
– about the same size of current X-PRO1 (NeS)
– dual SD card slot (NeS + AS + AS)
– tilt screen (AS)
– WiFi (AS)
– Price about 20% to 30% more expensive than the X-T1 (AS) – Note: X-T1 regular price $1,300. Add 30% to it and you get $1,700
– Two X-PRO2 version, one 24MP APS-C and one 25-27 MP APS-X, compatible with XF/XC lenses (NeS + OS)
OTHER SITES (OS)
– coming September / October (OS + OS)
– Non organic APS-C X-Trans sensor (OS)
– smaller than X-PRO1 (OS)