Fujifilm X-E4 X Lab – In Search of Lost Simplicity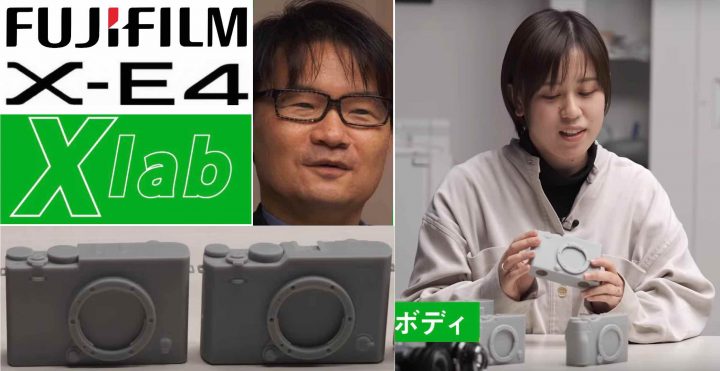 Fujifilm has published another X Lab episode all gravitating around the Fujifilm X-E4 with the team that developed the X-E4.
It's again in Japanese, and we rely on the automatic google translation tool. So it's the usual mess I want to spare you, hence I went through for you and summed it up down below.
Video Summary
price range close to Fujifilm X-S10, but concept is different
X-E4 has no grip and no mode dial
small, lightweight and fun to shoot with
the biggest challenge was to achieve simplicity with this camera
buttons were reduced but they tried not to reduced the functionality
lots of work on the firmware
has same functions as the X-S10
challenge was to simplify as much as possible without reducing functionality
one of the product designers is a young woman, and she actually is an X-E line lover and shot with X-E2 in the past. She feels like it's her faith that she entered Fujifilm and now had to design the X-E4
full flat body design is amazing
it's inspired by the film cameras of yesteryear, which were designed as simple tools
she she had the idea of the full flat body design, showed it to the team, which liked the idea
having a full flat body design is also better for Fujifilm in terms of lineup strategy
Paraphrasing Marcel Proust's masterpiece, we could say Fujifilm was in search of lost simplicity.
And they did so consequently.
Why have a dedicated Auto switch dial that you might just end up turning accidentally, when you can have the same function moved on an already existing dial (the shutter speed dial) in form of the letter "P"?
Is the front focus mode selector really used so often by X-E line lovers, that it needs to be there?
True, the rear command dial is also gone, and this is probably the bravest move Fujifilm did on its search for simplicity. But the front command dial is still there at least.
And yet, the X-E4 did not just remove options. It also added some. But when they did, they did so in a discreet way.
There is a tilt screen. But in order to remain loyal to the concept of simplicity, the tilt screen is unnoticeable when not used as it is perfectly flush to the body. It will be like not even having one.
And then there is of course all the autofocus goodness of the 26MP X-Trans sensor and X-Processor 4.
If Fujifilm did well or not with these design choices, only time (and sales) will tell.
What I can say, is that the X-E4 is the most pre-ordered X-E series camera on FujiRumors, and that by a large margin. We are in Fujifilm X-S10 territory in terms of pre-orders via FR!
So, at least in this little space of the Fujifilm universe called FujiRumors, there seem to be lots of people, who love the X-E4. I can understand them. It is also a very beautiful camera :).
The Camera
The Accessories
The Best Lens for X-E4
The Strongest Internal Competitor
Follow FujiRumors on Patreon, Facebook, Instagram, RSS-feed, Youtube, Flipboard and Twitter
Join Our Owners Groups
Join Our Facebook Pages