Fujifilm Q1 FY 2019/3 Financial Results: Upfront R&D Investment for Fujifilm X-T3, GFX 50R and GFX 100S Stops Operating Income Grow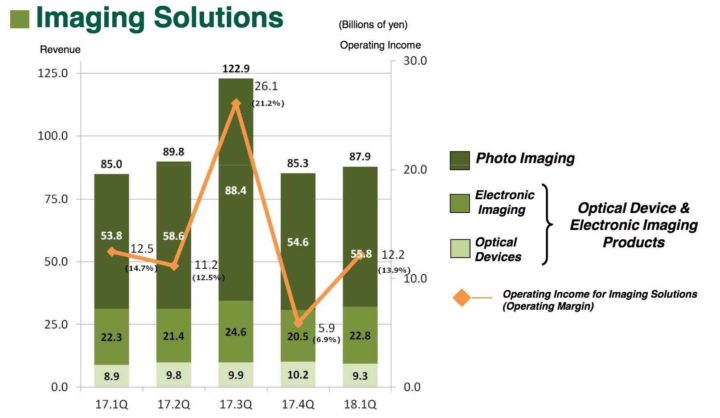 Fujifilm Financial Results for FY2019/3 1st Quarter
Fujifilm just published the 1st quarter results for the Financial Year 2019. Fujifilm confirms to be a healthy company, but the overall operating income in the imaging solutions segment went down 2.2%…
"due to such factors as upfront R&D investment for next generation processor and sensor for digital cameras and others."
Of course they mainly refer to the Fujifilm X-T3 and the Fujifilm GFX 100S, which will both feature a new sensor and new processor, but also the Fujifilm GFX 50R medium format camera (coming at Photokina this year) might have needed a major R&D investment.
Regarding the FUJIFILM X-H1 and FUJIFILM X-T100, in one report they write that sales were "solid" and in another report they write sales were "strong".
Down below the full report regarding the imaging solution
In the Imaging Solutions segment, consolidated revenue amounted to ¥87.9 billion (up 3.5% from the same period of the previous fiscal year), due to the sales increase in all businesses.
Consolidated operating income amounted to ¥12.2 billion (down 2.2% from the same period of the previous fiscal year), due to upfront investment such as R&D and others.
In the photo imaging business, sales were strong in instant photo systems such as the instax series and instax films. The sales volume of the instax series totaled 1.75 million units in this quarter. Sales increased with instax SQUARE SQ6, the instant camera with simple and stylish design which adopted square frormat, launched in May 2018. Wall Decor, Photobook and other value-added printing businesses also expanded and contributed to the revenue. Regarding instax, we have revised the targeted annual sales volume upward from previously announced 9.0 million units to 10.0 million units, estimating the sales increase both in the U.S. and Europe, where the sales are strong, and in the emerging countries.
In the electronic imaging business, overall revenue increased due to solid sales of X Series such as FUJIFILM X-H1, a flagship model launched in March 2018, and FUJIFILM X-T100, an entry-level model, launched in June 2018, and interchangeable lenses. Professional photographers and camera enthusiasts have given high praise to our proprietary technology, which enables impressive depictions such as unrivalled, superior color reproduction, and the extensive line-up of 39 lenses.
In the optical device business, sales increased, reflecting steady performance of various industrial-use lenses such as those for vehicle cameras. Fujifilm is the pioneer of 4K lenses for use in broadcasting with highly valued image quality, and is seeking to increase its market share with the diverse lineup of 8 models.
In the Imaging Solutions segment, revenue increased due to strong sales in all businesses, while operating income remained at the same level, due to such factors as upfront R&D investment for next generation processor and sensor for digital cameras and others.