Fujifilm GFX100S: I Came, I Saw, I Conquered!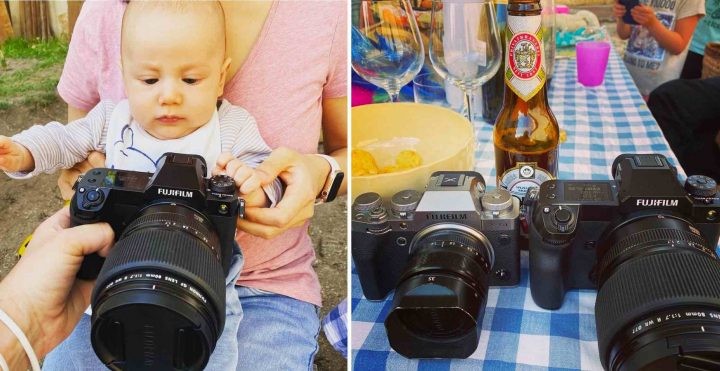 What you see above is my son checking the settings of the GFX100S and wondering why the heck it's set on SEPIA.
What you see above is my X-T4 next to the GFX100S.
What you see above is even my beer next to the GFX100S.
But what you see above, is not my Fujifilm GFX100S.
Nope, it's the GFX100S of a very close friend*, who sold his Nikon Z gear as soon as the GFX100S was announced.
Now, we haven't met for 5 months due to the pandemic and therefore 99% of our time we just spent it in his garden to drink a few beers (in safe distance) and talk about stuff like me and also him becoming fathers in the meantime.
But of course I also took a little bit of time to play around with his Fujifilm GFX100S (while waiting for mine).
Not much time, but enough time to understand why people go crazy about it!
As the Romans would have said: Veni, Vidi, Vici…. or I came, I saw, I conquered!
And in fact, the Fujifilm GFX100S conquered overnight the top spot as most owned Fujifilm GFX camera on among the FujiRumors community and is so far an outstanding success for Fujifilm.
The magnitude of the success goes beyond the most optimistic estimates inside the Fujifilm HQ in Tokyo. And, trust me, this is not rhetoric. Once (if) I get green light from sources, I'll let you know more on what is happening.
So how do we celebrate Fujifilm's biggest GFX hit ever?
Well, those who own it, celebrate by taking tons of amazing images and also sharing them in our Fujifilm GFX facebook group.
As for those, who are waiting to get their camera shipped, may this roundup help you to pass some time and looking forward to get your GFX100S even more :).
*NOTE: I was finally able to meet him after 5 months of isolation and lockdown. We met in his garden, with social distance, no hugs and kisses. Infection numbers are so low right now, that we are allowed to meet close friends and family if we do it carefully, and so I did. It was the first time he saw my son and I saw his daughter. Also consider that me and also him are both vaccinated, because we are both teachers.
Fujifilm GFX100S
→ USA: BHphoto / AmazonUS / Adorama / Focuscamera / Moment
MHG-GFX S hand grip: BHphoto / AmazonUS / Adorama
→ EU: AmazonDE / CalumetDE / WexUK / Parkc.UK / AmazonUK / PCHstore
Fujinon GF80mmF1.7
→ USA: BHphoto / AmazonUS / Adorama / Focuscamera / Moment
→ EU: AmazonDE / CalumetDE / WexUK / Parkc.UK / AmazonUK / PCHstore
Follow FujiRumors on Patreon, Facebook, Instagram, RSS-feed, Youtube, Flipboard and Twitter
Fujifilm GFX100S Roundup
Sieh dir diesen Beitrag auf Instagram an
Sieh dir diesen Beitrag auf Instagram an