Fujifilm GFX100 Phase Detection Pixel Banding and Pixel Shift Multishot Solution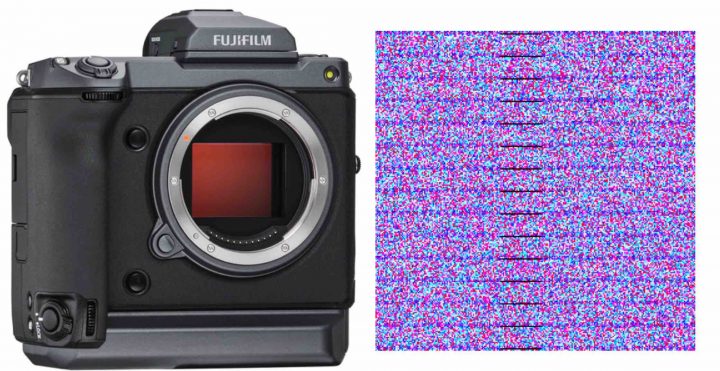 Fujifilm GFX100
For years, mirrorless cameras lagged behing DSLRs in terms of autofocus speed.
In order to catch up, companies started to incorporate phase detection pixels on their sensors, and modern cameras have phase detection pixels spread all over the sensors, very much to the delight of photographers, who enjoy fast autofoucs, eye autofocus all over the frame and reliable subject tracking.
But no technology is perfect, and so also phase detection has its downside.
When pushed to the extreme (meaning extreme shadow recovery for example), sensors with phase detection pixels can show some banding.
This has been documented with Nikon, Sony and so forth, and of course Fujifilm is no exception. They all use the same Sony sensor at the end of the day :).
It looks like also the Fujifilm GFX100 is (unsurprisingly) showing the same banding issue, when its RAW files are pushed to the extreme.
In fact, the Fujifilm GFX100 sensor has
a total of 3.78 million phase detection pixels
7,776 PDAF pixels every 18 lines
The more phase detection pixels a sensor has, the more you can use phase detection also in lower light.
Bill Claff from Photons to Photos has published a Fujifilm GFX100 sensor heatmap (via dpreview), showing a short black line every 18 rows (see image above).
Should we panic?
I guess not. Or we could just throw any modern mirrorless camera into the garbage that uses phase detection pixels (unless it's X-Trans ;) ).
It's, as always, a tradeoff.
Do you want faster autofocus? Or do you want RAW files that even when pushed to its limits and beyond don't show banding?
The Solution
First off: Fujifilm is fine tuning the firmware for the Fujifilm GFX100, and of course they are aware of banding. They are working to optimize sensor readout and the final firmware will show, how much banding the camera will really have.
But in any case, there is partially a solution to that, even without optimized and final firmware.
As I told you already months ago, Fujifilm is working to bring pixel shift multishot into the Fujifilm GFX100.
The original goal was to have it ready for GFX100 launch, but it needs a bit more time of development.
But pixel shift mulitshot will come, and as we have seen from other phase detection mirrorless cameras offering this feature, pixel shift reduces or even eliminates banding completely.
So, as long as you are shooting static subjects on a tripod and use pixel shift multishot, you won't have any issues with banding.
Fujifilm GFX 100: B&H Photo, AmazonUS, Adorama, Focuscamera
The GFX Community
Follow FujiRumors: Facebook, Flipboard, Instagram, RSS-feed, Youtube and Twitter