Fujifilm GFX100 Development Story with GF Lenses Autofocus Speed Ranking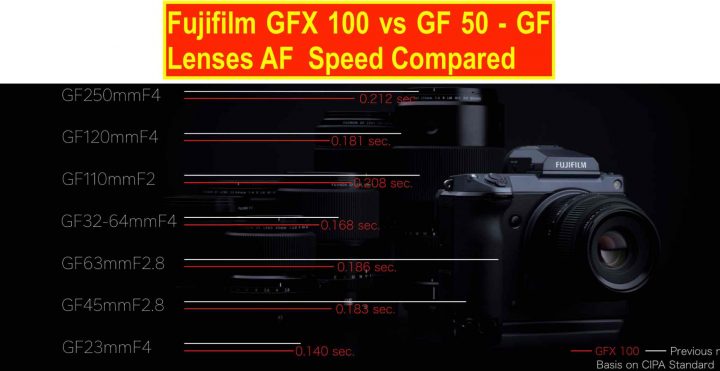 Fujifilm GFX100
Fujifilm has published a first Fujifilm GFX100 development story article.
They start with discussing the definition of the sensor, medium format or large format.
There is not much point in having a discussion as to how to call the format of 44 x 33mm. We tend to seek for the historical ground from the days of silver halide film; 6 x 4.5 is medium format, and 4 x 5 inch or larger is large format, but the explanation does not have any suggestion other than historical legitimacy.
in terms of resolution, the current 44 x 33mm format surpasses that of the 6 x 4.5 and even the 8 x 10. There still is the unique color reproduction of the silver halide films, but if the medium and the large format is designed for large prints, then there is no point in seeking historical ground to call what format GFX is. Because with the GFX100, we can have the prints even larger.

The core part of the article is the comparison between Fujifilm GFX100 and GFX50 in terms of AF speed.
The major change from X-Pro1 to X-Pro2 was the installation of phase detection AF. The same goes for the GFX100 when compared to the change from GFX 50S / 50R. Furthermore, the AF algorithm of the GFX100 is same as that of the X-T3, meaning not only is it fast, but is now also tougher against in low light conditions, high frequency subjects and low contrast subjects.
To put simply, the GFX100 has the agility like the X-T3 and achieves the descriptive power like the 8×10. There have never been a system like this before. This is a whole new experience.
The lenses, that have the biggest benefit in terms of AF speed thanks to the phase detection AF pixels on the GFX100 are the GF63mm and GF45mm.
GF lenses autofocus speed on GFX100 (with latest GF lens firmware udpate):
GF 23mmF4 R LM WR – 0,140 sec
GF 45mmF2.8 R WR – 0,183 sec
GF 63mmF2.8 R WR – 0,186 sec
GF 110mmF2 R LM WR – 0,208 sec
GF 120mmF4 R LM OIS WR Macro – 0,181 sec
GF 250mmF4 R LM OIS WR – 0,212 sec
GF 32-64mmF4 R LM WR – 0,168 sec
Read the whole story at fujifilm-x.
BREAKING NEWS on FujiRumors via Facebook, Flipboard, Youtube, Instagram, RSS-feed and Twitter
Fujifilm GFX 100: B&H Photo, AmazonUS, Adorama, Focuscamera
The GFX Community