Fujifilm GFX Vs. Canon 5DS R Vs. Sony A7rII: "Incomparable. GFX IQ Far Better Than My Canon. Dynamic Range Surpasses My Sony"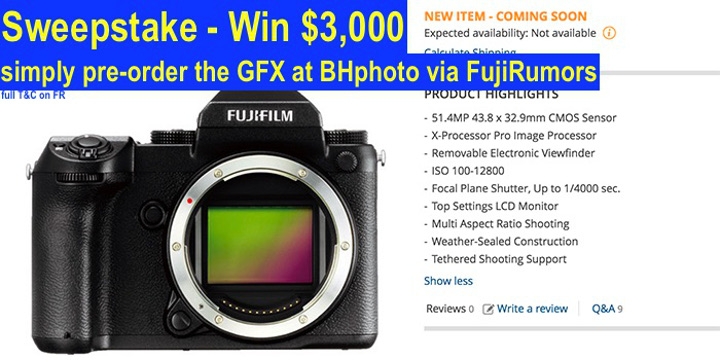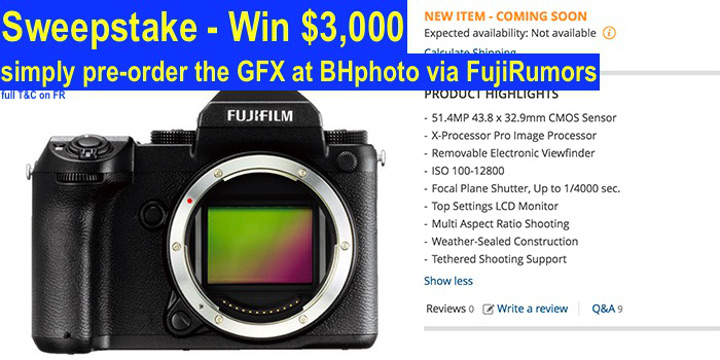 Fujifilm GFX Nr1 Seller at BHphoto!
Fujifilm GFX First Looks
As many of you guys, I'm also waiting for GFX reviews. Right now it's still quite early, but we already have a bunch of first impression shared here in the live blogging. And new ones are coming in. So here are two more:
Adrian C Murray owns a 5oMP Full Frame Canon 5DS R and also the Sony A7RII. He had quite some time to make deeper tests on the GFX and published his First Impression here. Some excerpts:
Fuji GFX Vs. Sony A7RII Vs. Canon 5DS R: While the digital resolutions of both these cameras [GFX and 5DS R] are similar I did notice that the actual image quality was far better on the 50S. So much so that I'd pretty much say the two cameras are basically incomparable […] The 50s offers far more dynamic range than I've had on any of my Canon cameras and also surpasses my Sony A7Rii
AF SPEED: I was happily surprised with the autofocus […] I was able to obtain focus on some of the most difficult subjects in the world, children. Not just any children, but hyperactive toddlers. While I probably wouldn't do any sport shooting with this camera, it's autofocus is still very capable in the right hands.
Stuff.tv that has spend a few hours with the GFX. Here are some excerpts of their first impression:
Full-frame photographers watch out – there's a new high-end champion to get jealous over
IQ: With the right lighting and camera settings, you'll get billboard-quality shots right off your memory card – especially as the GFX shoots in 14-bit RAW, which is perfect for capturing wide dynamic range.
AF SPEED: Motion wasn't a problem, tracking two dancers as they moved across the frame and delivering crisp shots every time […]. It really is amazingly fast. […] I'll need to see how it deals with faster action
Tethering: The GFX 50S will do tethered shooting with Adobe Lightroom, too – as long as you buy the optional Pro plugin.
Initial Verdict: It's smaller than full frame DSLRs from the likes of Nikon and Canon, but packs in a larger sensor, and is arguably easier to use. Fuji's fantastic control layout is easy enough for newcomers to learn, and instantly recognisable for anyone stepping up from an X-series camera. […] The GFX 50S might be the camera that pushes medium format into the mainstream
Fujifilm GFX: USA BHphoto – Win $3,000 by pre-ordering at BH via FR*, Adorama, AmazonUS EU: AmazonDE, AmazonUK, WexUK, ParkCamerasUK, PCHstore AUS: CameraPro
*Pre-order the GFX at BHphoto using the FujiRumors B&H link to enter the contest. Price: $3,000. Sweepstake Overview & Rules can be found here. Full Terms & Conditions here.