Fujifilm GFX Hands On Impressions :: "A Compact Workhorse, That Will Find A Place in My Bag… and In My Heart"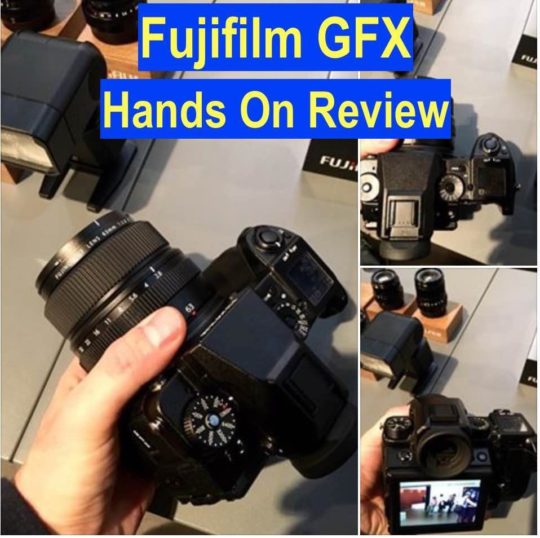 Fujifilm GFX facebook member Florian shared his Fujifilm GFX Hands On Review at the Fujiiflm GFX Facebook group here. It's in German, but you can use the Facebook translation tool to get the English version. He also shares 3 images of the GFX.
I'll highlight in short some of his findings:
BODY: Boxy, very pleasing handling, great ergonomics. Not too big. He loves the joystick. Great build quality, but if you look at the size of body, the camera feels almost too light. It's like something is missing in the inside, since it's so light.
MENU: It's still in Beta, so it didn't run flawlessly
EVF: Still in Beta Firmware, but already much better than on the Hasselblad X1D. Information was displayed in white, which he considered not ideal
AUTOFOCUS: (Consider it's an early Beta-Firmware) Absolutely OK. Felt so fast like the AF on the Sony A7, or a bit slower. Definitely faster than the Hasselblad X1D. There was not much light, when he tested the camera, so he expects it to work faster in good light.
DISPLAY: On the GFX he handled, there was no touch screen (ADMIN NOTE: or maybe it was not working due to the preliminary Beta-FW? At photokina Fujifilm indicated that it will have a touch.)
LENSES: The 63mm is compact. It contributed to the overall lightness of the camera. The zoom lens was quite big.
IMAGE QUALITY: No comment. The test condition at the photography fair were not good (bad light) and the Firmware was still a Beta.
PRICE: Body: €6,999. 63mm: €1,500 (ADMIN NOTE: This confirms this rumor)
CONCLUSION: Awesome. It arouse emotions. Overall very good first impression. A compact workhorse he could use for portrait work, that will find a place in Florian's bag and heart :) .
For any other questions, just join 4,500+ members at the Fujifilm GFX facebook, and drop your questions in the comments of Florian's facebook post.