Fujifilm Officially Recommends to Turn On OIS for Tripod Use on Fujinon XF 16-80mm F4 and XF 200mm F2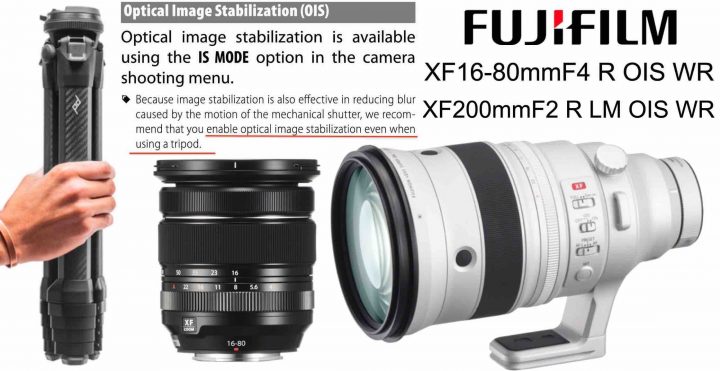 Best Friends: OIS and Tripod
We have all grown up with the idea (some call it "myth"), that we always should turn off OIS when working on a tripod.
Also Fuji X guru Rico Pfirstinger recommends this in his top rated Fuji X eBooks (at least the ones I have read).
And indeed, I feel like it's still a good idea to switch off OIS. And in the comments Bob Cooley tells you why you should definitely switch it off for video.
But, looking at the owner's manuals for all X and G mount lenses, I've noticed that Fujifilm officially recommends to keep OIS on, even when working on a tripod, on the following two lenses:
This is possible, because both these lenses offer the following feature:
the lens recognizes shooting conditions, such as panning and shooting on a tripod, and automatically applies the optimum stabilization control
I don't know if this is something Fuji could implement via firmware update also on other X and G mount OIS lenses.
Also interesting to note, that while Fujifilm clearly says in the Fujifilm GFX100 and Fujifilm X-H1 owner's manual, that you should turn off IBIS when using the camera on a tripod, they do not say anything about switching off OIS on any X/G lens when used on tripod.
I don't know you, but, unless I'd own a XF16-80 and XF200 with the new "shooting condition recognition" feature, I prefer to switch OIS off when I work on my Sirui T-025x.
Anyway, the main take is: reading the manual is always a good idea.
Follow FujiRumors on Facebook, Instagram, RSS-feed, Youtube, Flipboard and Twitter.
Rumors and Discussions

Stay in the Loop