Fujifilm Announcement September 2: What We Expect (Fujifilm GFX50SII and More) and What Not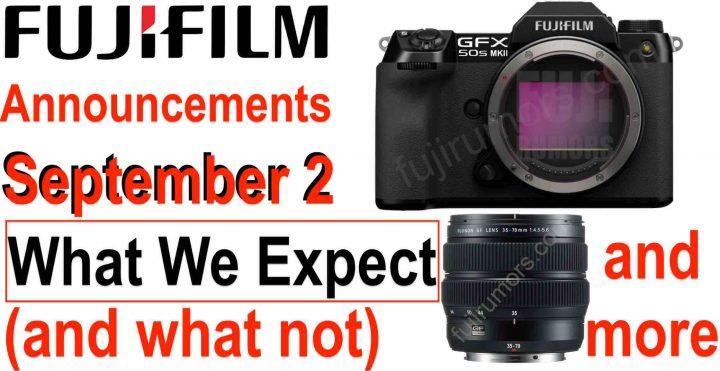 FujiRumors has informed you that there will be announcements on September 2.
Surprisingly many FR readers wondered what will come.
Well, first off, it is important that you regularly check our rumor section, so you won't be that surprised anymore.
Second, down below you find a recap and summary of what will come on September 2, what could come and what will sure not come on September 2.
What Will Come
What will come?
Well, here is what we can be sure of:
Fujifilm GFX50SII
Fujinon GF 35-70mmF4.5-5.6
Speaking of these two, there won't be many surprises, as FujiRumors leaked all the most important specs already. The most recent recap can be found at the bottom of this article.
What Could Come
But could there be more?
Well, I've taken a look at our 2021/2022 rumored timeline, and I can see still some gear we rumored for 2021.
Remains to see if Fujifilm wants to make September 2 a GFX pure announcement and give the Fujinon XF33mmF1.4 a proper visibility by announcing it separately later on, or if they'll drop it all at once.
If anybody out there has the answer to this, feel free to contact me at fujirumor@gmail.com, via personal message on social media or anonymously via rumor box.
What Will Not Come
I can understand why you are confused about the Fujifilm X-H2. I mean, rarely I have read so many fake rumors about a camera as this one.
But FujiRumors was consistent since day one: we always told you that there will be a Fujifilm X-H2 even when others claimed the X-H line has been axed, and we always told you it will be a long wait, even when others claimed it would come in 2020, and once 2020 was over, the said in 2021.
The truth is this: the Fujifilm X-H2 will come in 2022. Period. Some specs about it can be read here. More will follow. Enough said for now ;).
Also, many asked me if the XF150-600mm will come on September 2, but I hear that one is scheduled for 2022, so I would be surprised to see it announced on September 2 already.
For other things that won't come, check out our rumored timeline.
Your Top Wish?
What do you hope Fuji will surprise us with on September 2? Drop your top wish in the comments
The Fastest Growing Fujifilm Group
Join Our Owners Groups
Join Our Facebook Pages