Fujfilm Announcement Coming Within 2 Weeks. Fujifilm X-T100, Instax SQ6… and Surprises?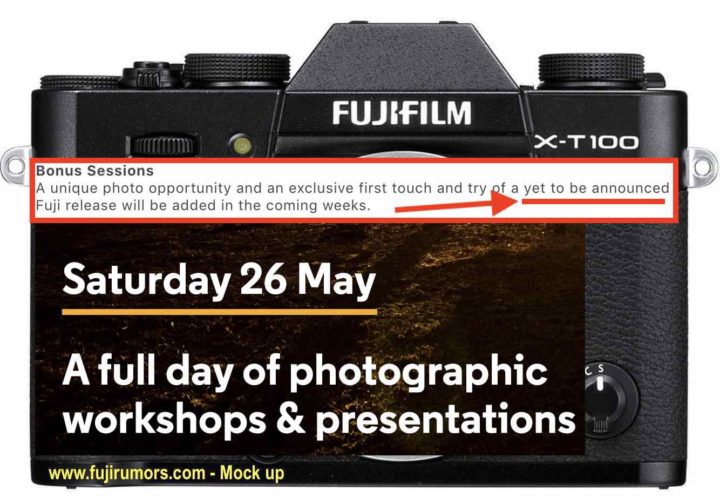 Fujifilm Announcement Coming
On May 26, the Australian store CameraPro will offer a full day event packed with workshops, presentations and hands-on activities and more. If you want to join, check out their eventbrite page here.
In the event description they also write:
Bonus Sessions: A unique photo opportunity and an exclusive first touch and try of a yet to be announced Fuji release will be added in the coming weeks.
Thanks to Tony White from ozlightphoto.com.au for sharing this tidbit with us :) .
So within May 26, we will get a new Fuji gear… but what?
Here on FujiRumors we have rumored the core specs of the Fujifilm X-T3, we talked a lot about the Fujifilm GFX 50R, we even looked far ahead to the Fujifilm GFX 100S, but the most rumored camera at the moment (and hence probably the closest to come) is the Fujifilm X-T100… so let's talk about it :).
Fujifilm X-T100
We shared the first rumors about the Fujifilm X-T100 back in September 2017. Over the following weeks and months, FujiRumors has shared braking specs of Fujifilm X-T100.
Here are the main specs again for you guys:
design similar to X-T20
24 Megapixel Bayer sensor
Selfie Screen
very affordable
The goal of the Fujifilm X-T100 is to close the gap between the EVF-less Fujifilm X-A5 and Fuji's mid-range X-Trans cameras like the Fujifilm X-T20 and Fujifilm X-E3.
The direct competitors of the Fujifilm X-T100 are cameras like the Olympus OM-D E-M10 Mark II and the Sony A6000.
Instax SQ6
Soon Fujifilm will also launch the Instax SQ6, which has already completely leaked here.
Here on FujiRumors we shared the first real life images already back in March 17, 2017 here, so well over a year ago.
The Instax SQ6 is basically the film-only version of the hybrid Instax Square SQ10 and it will take the Instax Square Film.
Surprises?
Of course there could be surprises. Maybe some lenses, such as the XF8-16mmF2.8? Or the XF200mmF2? For sure the X70 successor will NOT come in May.
I will work on it now and let you guys now if I can find out something. So make sure to follow us on Facebook, RSS-feed and Twitter.
Till then… you can dream freely in the comments :).
Follow & Like us on Facebook, RSS-feed, Instagram, Youtube and Twitter
Instax Square Film: AmazonUS, BHphoto, Adorama
Fujifilm Instax Square SQ10: BHphoto, Adorama, AmazonUS