Fringer EF-FX Pro and EF-FX Firmware 2.70 Released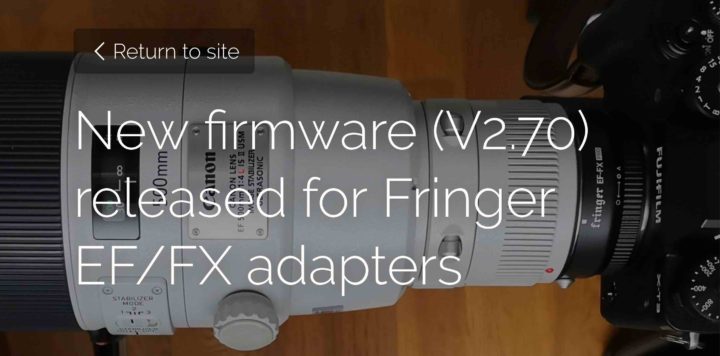 Fringer just released new firmware version 2.70 for Fringer EF/FX adapters.
V2.70 includes following improvements:
Fixed PDAF issues for some of the following lens models: Lens didn't get recognized by the adapter due to different lens firmware version.
– Sigma 17-70/2.8-4 DC Macro OS HSM Contemporary
– Tamron SP 35/1.8 Di VC USD
– Tamron SP 45/1.8 Di VC USD
– Tamron SP 85/1.8 Di VC USD
Fixed MO (Manual Override) support for some Sigma and Tamron lenses. When you turn focus ring and activate MO, the camera will be switched to manual focus mode. After you half press and release the shutter button, it will be switched back to AF mode automatically. Be noted, this works only when IS mode is set to "always on" and the lens' MO function is switched on.
Bug fixed: When the Pro version adapter works with variable aperture zoom lenses and some of the X cameras such as X-T3, the camera may become lag and not responsive after playback a photo and switch back to shooting mode.
Added following lenses to the tested and optimized lens list:
– Tamron SP 70-210/4 Di VC USD (A034)
– Tamron SP 17-50/2.8 XR Di-II VC LD (B005)
– Samyang AF 85/1.4 EF
– Canon EFS 18-200/3.5-5.6 IS
– Canon EF 500/4L IS II
– Canon EF 500/4L IS II + 1.4X
To check the performance of the Fringer on Fujifilm X-T3 check out:
Visit this page to download the new firmware v. 2.70 file and release notes or click the direct links below.

It's close to Chinese new year. Due to Spring festival holidays, if you purchase Fringer adapter products from Fringer's webstore, it will not be shipped until Feb. 15.
via fringeradapter