Fotodiox Canon EF to Fujifilm GFX Fusion Smart AF Adapter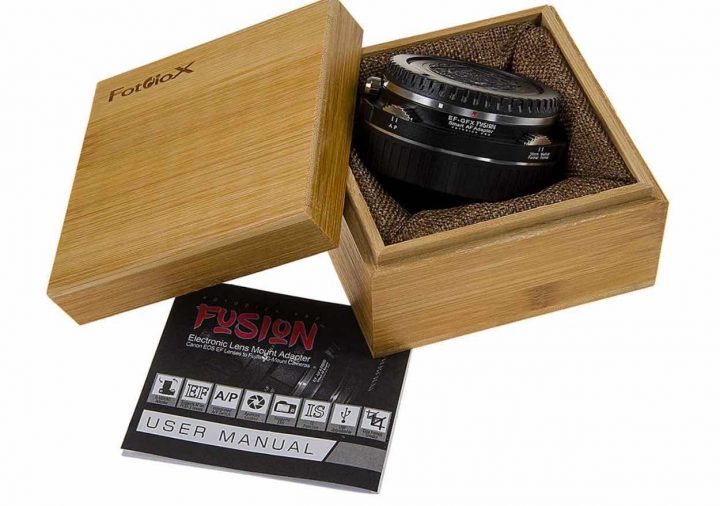 Fotodiox Smart AF Adapter for Fujifilm GFX
Fotodiox just announced their Canon EF to Fujifilm GFX Fusion Smart AF Adapter.
You can buy at BHphoto, AmazonUS and Adorama.
We remind you that the Fujifilm GFX 50R will be announced September 25 at 07:30 AM New York time and at the same time there will be also the development announcement of the Fujifilm GFX 100.
Follow FR on Facebook, Instagram, RSS-feed and Twitter
RUMOR, NEWS and COMMUNITY
Fujifilm GFX facebook group
Fujifilm GFX facebook page
Fujifilm GFX 50s body (save $650): BHphoto, Adorama, AmazonUS
Press Release
Fotodiox to Premiere Fusion Smart AF Adapter for Canon EF Lenses to Fujifilm GFX Cameras at Photokina 2018
Fotodiox Pro an industry leader in the manufacture of lens mount adapters is pleased to announce the newest addition to their Fusion Smart AF line of adapters: The Canon EF to Fujifilm GFX Fusion Smart AF Adapter.
The EF-GFX Fusion Smart AF Lens adapter will allow users to mount Canon EF lenses to Fujifilm GFX bodies while retaining autofocus, in-camera aperture control, lens image stabilization and recording lens EXIF data to the camera allowing for much larger range of fully functional lenses to be used with this phenomenal camera system.
Although the adapter will allow you to mount any Canon EF lens, you may experience vignetting on some lenses as the image circle may not fully cover the larger sensor of the GFX system. Not to worry, the GFX-EF Fusion Smart AF adapter includes a built-in switch to change between Medium Format mode (full sensor) to 35mm mode (cropped sensor) to take full advantage of all lenses available. We've also included a switch on the adapter to allow you quickly and smoothly switch from Aperture Priority mode to Program Mode without needing to navigate in-camera menus.
The EF-GFX Fusion Smart AF Lens Adapter is also the first adapter in Fotodiox's Fusion line to include a micro USB port to allow for firmware updates providing a nearly future proof solution for GFX users.
The public premiere of the EF-GFX Fusion Smart AF Lens Adapter will be at Photokina 2018 in Hall 2.1 Stand D11 from September 26-29, 2018.
Serving the photo and video markets since 2004, Fotodiox Pro is a leading manufacturer and distributor of high-quality, professional and affordable photography and videography accessories. Known for such products as the WonderPana wide-angle filter system, the Vizelex ND Throttle adapter series, award-winning GoTough accessories, and the groundbreaking PopSpot, FACTOR and FlapJack LED lights.
via photographyblog