FIRST TESTS of Firmware 1.02 for Fujinon XF 16-80mm f/4: Sharper Images, Shutter Shock Fixed, Video Focus Wobble Gone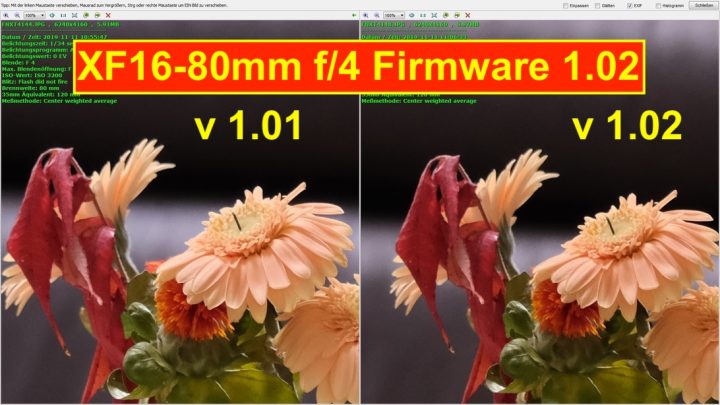 XF16-80mm f/4 firmware 1.02
Recently we shared a dedicated XF16-80 flaws roundup.
Now I am happy to see that the new firmware updates for XF16-80mm f/4 have apparently fixed some of the issues.
In fact, the latest firmware 1.02 for Fujinon XF16-80mm f/4 promised 3 things:
Improvement of OIS function
Improvement of AF accuracy
Fix of slight defects
So what it is about and does it work? Let's see!
Quick Tests
The first feedback can be found (in German language) at the sister forum of our fuji-x-forum.com, the fuji-x-forum.de here. Member Nansen writes (in German and translated by FujiRumors):
After the update, the sharpness is "super". His sample had always good sharpness but now it is even better. [see above the 100% crop]
Autofocus seems to be even more precise (but difficult to measure, it's more an impression he has). In his tests with this new firmware, AF always nailed it perfectly
the focus wobble problem while zooming in video is now completely gone
the electronic shutter (first curtain) is still just slightly sharper than mechanical shutter. It's really only minimally sharper. You would not notice it, if you don't very carefully look for it.
His conclusions:
I now became very happy with this lens. […] Initially there were some unexplainable sharp images, and it needed two firmware updates to fix it. It's strange that Fujifilm releases a lens and let's the customer "test" it, before making it avaiable everywhere [admin note: the 16-80 is mostly out of stock, maybe also because they saw they needed some fixes first?]

But what else should Fujifilm do? They take the feedback and react.

Is there anybody else, who initially was not so happy with the lens, and now, after these two firmware updates, can give feedback if they are now more happy with it?

If so, then the improved image quality should be highlighted just as the critiques the lens initially got
On the comments on FujiRumors here, André Bresson said:
installed the new firmware some minutes ago. I did around 50 test shots at home, and my impression is that this firmware corrects the main problem I found with my copy of this lens: wrong focus at short distances (it persisted with the previous firmware version). My shots now were 100% with the focus spot on, with an XT1.

I also did some test shots using electronic vs mechanical shutter, even at very slow speeds such 1/4 seconds, and the results were clear.

Now I don't have time to make further tests, by I will report when I do so. My first impression is very positive.
Another feedback comes from dpreview forum by pedrito24, and he says it seems the shutter shock issue has been fixed, too. He shared images at dropbox here and the forum post at dpr here.
Shot several pictures at 1/125 shutter speed with MS and ES at different focal lengths and apertures. See results below, there is also a dropbox link to the raw files in case you want to do more checks. It seems to me the shutter shock problem has been mitigated by a lot, barely visible at 1:1 magnification.

the difference ES/MF is still there [with slight advantage for ES]. But now I had to look at 200% magnification in Lightroom to see it, whereas with previous firmware it the difference was visible already in the back LCD of the camera.

For my needs, the lens is totally usable now. Glad Fuji came up with an improvement so quickly.
FUJINON XF16-80mm f/4: BHphoto, AmazonUS, Adorama
Rumors and Discussions

Stay in the Loop