ePHOTOzine Fujinon GF80mmF1.7 Review: Impressive Chromatic Aberration Control, Outstanding Sharpness, Superb Image Quality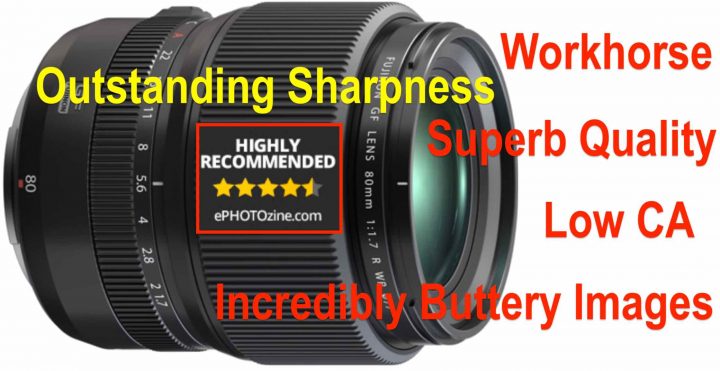 When the ultra fast Fujinon GF80mmF1.7 was launched, some noticed a minimal sign of fringing when pixel peeping into images to ultra detailed pixel level. Something to worry about?
Apparently not.
According to ePHOTOzine, who just published its full technical review, the GF80mmF1.7 is able to contain chromatic aberration extremely well. They write:
CA (Chromatic Aberration) is also very impressive, centrally being close to zero as we stop down slightly. The edges are also kept well under control.
I did play around with the GF80mmF1.7 of my close friend too (he sold all his Nikon Z gear for the GFX system) and quite frankly it's a stunning performer in terms of optical quality.
Down below you can see the Pros and Cons of the ePHOTOzine review.
PROS
Outstanding sharpness and detail
Low CA
Low flare
Low distortion
f/1.7 fast, bright aperture
Weather-resistant
Excellent handling
Beautiful bokeh
CONS
Focusing could be closer
Bulky
Verdict
The temptation is to think that this could be a carry anywhere camera of superb quality, blowing everything else out of the water. In reality, it is indeed superb but it is also bulky and is far more suitable for using on a job at a location rather than carrying it around on spec. Superb for portraits, fashion, landscapes, architecture and social photography, this will be a workhorse for many photographers. The f/1.7 aperture opens new possibilities for reduced depth of field, surely one of the major advantages of larger formats. Couple this with the incredible buttery smoothness of the images and there is just so much to like.

In summary, not for general everyday use but if you need it an incredible photographic tool that delivers the quality – Highly Recommended.
You can read the full review at ePHOTOzine here.
At the time of this post, the Fujinon GF80mmF1.7 is in stock at AmazonUS here.