Fujinon XF70-300mmF4-5.6 ePHOTOzine Review: "An Excellent, Versatile Performer at a Reasonable Price"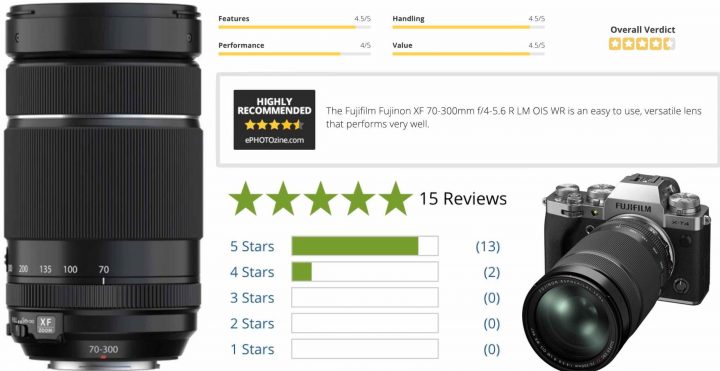 The brand new (and hard to find) Fujinon XF70-300mm f/4-5.6 enjoys so far stellar customer reviews.
And so far, also various "professional" reviewers seem to confirm the excellent impressions customers have.
For example, ePHOTOzine published their full Fujinon XF70-300mm f/4-5.6 review, giving it 4.5 stars rating and highly recommending it.
Down below their Pros and Cons as well as their conclusions:
PROS
Excellent sharpness, well maintained throughout range
Low CA, flare, distortion
Highly effective OIS
Weather-resistant
Excellent handling
Beautiful bokeh
Reasonable cost
Focusing to macro distances
Compatibility with 1.4x and 2x converters
CONS
Edge sharpness at 300mm falls off
Switches on lens can be accidentally moved
Conclusions
Looking at what this lens actually offers the Fuji user, at a reasonable cost, it extends the focal length to a very desirable 300mm, whilst maintaining overall quality very well up to 200mm and keeping that crisp central sharpness right up to 300mm. The edges do fade somewhat at 300mm, but this may be a price worth paying as many subjects will be in the centre of the frame. It could even be turned to an advantage by having sharp portraits with more diffused edges. It is knowing what a lens can and can't do that enables us to use its characteristics to aesthetic advantage.

So, overall the Fujifilm Fujinon XF 70-300mm f/4-5.6 R LM OIS WR is an excellent performer at a reasonable price and a valuable addition to the Fujifilm repertoire of XF lenses. Highly recommended.
A pity this fantastic lens is so hard to find available. AmazonUS expects stock on June 15, but who knows if that will be really the case.
You can read the full review at ephotozine here.