Competition Compared: Sony a6400 vs Fujifilm X-T20 vs Fujifilm X-T3 vs Sony a6500 vs Fujifilm X-T30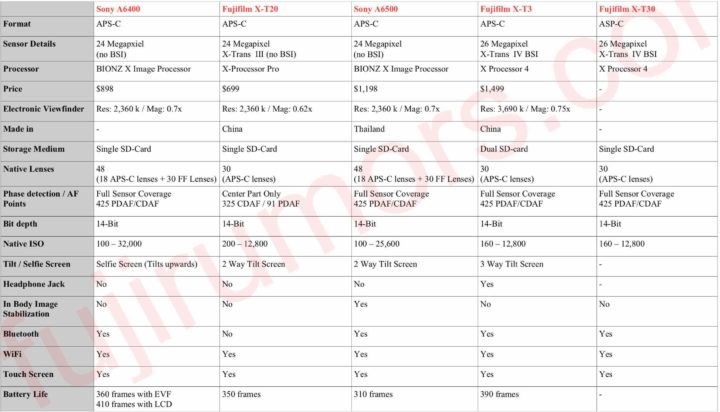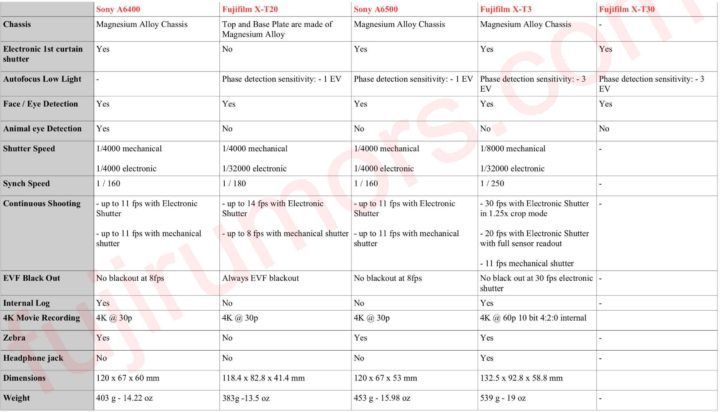 Sony A6400
Sony announced the Sony A6400, which, given its price and features, we can consider the Fujifilm X-T30 competitor.
The Fujifilm X-T30 will be announced February 14.
Above you can find a specs sheet comparison between the Sony A6400, Fujifilm X-T20, Sony A6500, Fujifilm X-T3 as well as an initial list of Fujifilm X-T30 specs, assuming it has the same sensor/processor of X-T3.
Animal Face/Eye Detection
Fujifilm already has it! :)
In fact, this forgotten Fujifilm digital camera offered "pet detection" for cats and dogs already 8 years ago.
Of course Sony's solution is much more sophisticated and potentially very useful for wildlife photographers, so let's hope Fujifilm will catch up on that feature, improve and extend it, and bring it to us Fuji X series lovers via Kaizen love soon.
New Autofocus
The showpiece of the Sony A6400 is definitely the new autofocus system, but we have to wait real life reviews to see if it really lives up to the hype Sony created with its promo videos.
If so, then it's definitely impressive.
The Fujifilm X-T30 will feature the new sensor and processor of the Fujifilm X-T3, hence we can expect an excellent performer in terms of autofocus and eye-AF. Can't wait to see the first real life comparisons with Sony's new AF system.
Dealbreaker Selfie Screen?
The Sony A6400 also targets vloggers. However, with an on camera microphone attached, you can no longer see yourself in the upwards tilting selfie screen. A possible dealbreaker for vloggers.
If the Fujifilm X-T30 has a selfie screen, then it could be the one of the Fujifilm X-T100, which I consider a brilliant solution for hybrid stills/video shooters, except for one downside, as we told you here.
You guys already told us which kind of tilt screen you prefer (for Fujifilm X-H2). Check out and vote the poll here.
Lack of APS-C Lenses
If Sony's wants to create an attractive APS-C system, they need to add several high quality APS-C lenses, but sadly Sony didn't announce any new APS-C lens.
To cover the gaps in their APS-C lens line-up, you must get the more expensive and bigger FE-mount full frame lenses, which kind of destroys the purpose of buying into APS-C.
The Fujifilm X-T30 has on its side a terrific lens line-up specifically designed for APS-C. You find from big, heavy and expensive glass to small, portable and afforable lenses. A mature system.
Sony Kaizen
The probably most exciting part of the recent announcements, was Sony's promise to add the new autofocus system as well as new features (interval recording) via firmware update to the Sony A9, Sony A7III and Sony A7rIII.
Let's hope Sony will permanently adopt Fujifilm's Kaizen strategy, since customers will benefit so much from it (companies a little bit less, since they hold off people from upgrading more frequently to newer models).
Follow FujiRumors: Facebook, Instagram, RSS-feed and Twitter
Facebook User Groups: Fujifilm X-T, GFX, X-H, X-Pro, X-E and X100 line
Dedicated Facebook Pages: Fujifilm X-T, Fujifilm X-H and Fujifilm GFX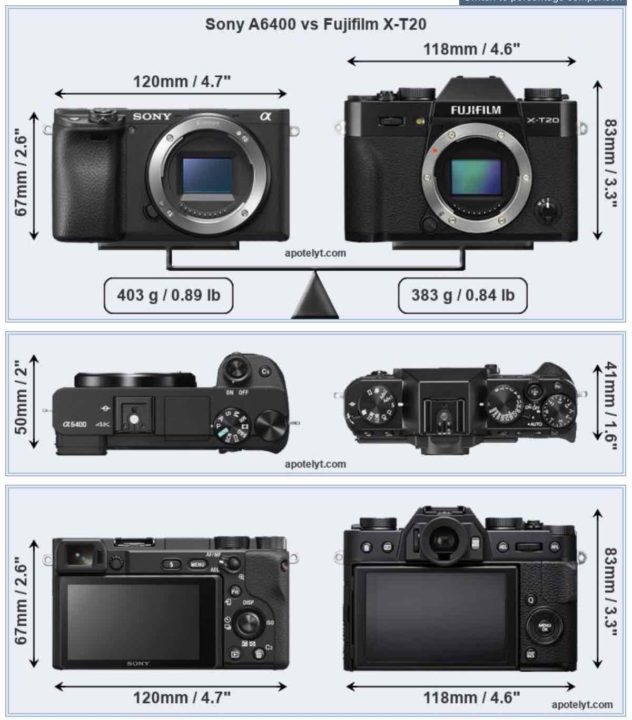 size/weight comparison by apotelyt