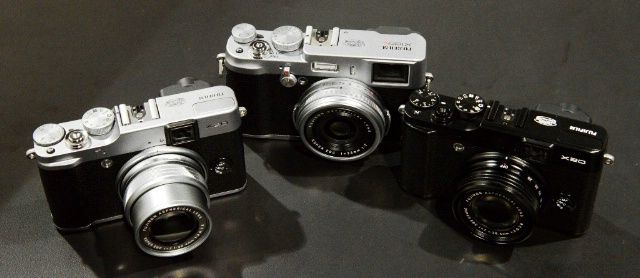 Quick post to feature a X100S and X20 first impressions by Laura Hicks over at digitalcamerareview.
About the Fuji X100S:
At CES I had the opportunity to check out the X100S. It has a retro body design that is pleasing to the senses. Whether you are holding the texturized body or touching the cool metal, the X100S is the embodiment of a tactile experience. It is also solid and well-built. The camera responded quickly and had very good image quality. The f/2 lens was crisp and offered a great depth of field. But one of the most amazing parts of this camera was the electronic view finder (EVF). It was one of (if not the best) EVF I have ever held to my eye.
On the X20:
I was also able to spend some time with the X20 at CES 2013. My first impression of this camera is very good. The body of this camera looks strikingly similar to the X10 with only a few minor changes. The f/2.0-2.8 lens has a fantastic minimum aperture. The X20 has a lot of physical buttons and dials which feeds my need to have control over my camera. The mode and exposure dial are my favorites. The camera has a built-in flash as well as a hot shoe. And for those of us that can't seem to break away from holding a camera to our eye, an electronic view finder is present.  Both the LCD screen and OVF are bright and crisp.
Fuji X100s pre-order options: Amazon | B&H | Adorama
Fuji X20 pre-order options: Amazon | B&H | Adorama
[via digitalcamerareview]