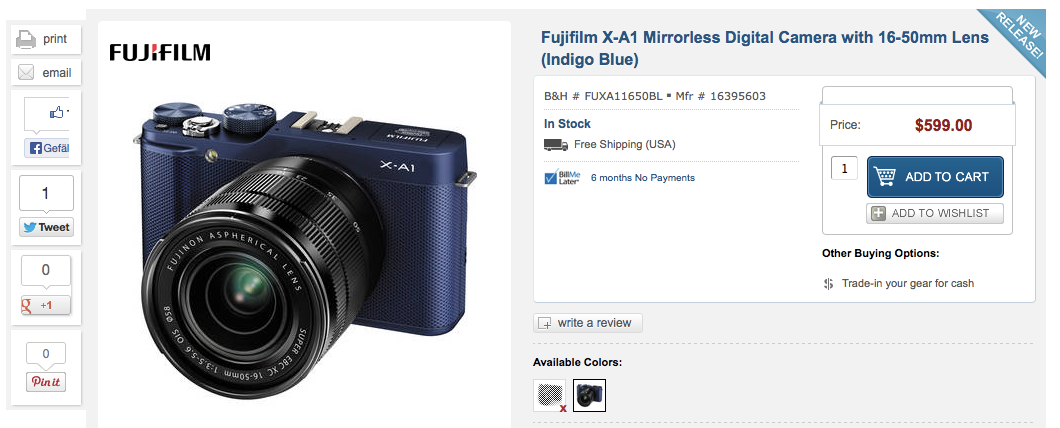 In stock check
X-A1 – USA: AmazonUS / BHphoto / Adorama / Pictureline / EUROPE: AmazonUK (via DR)
XC 50-230 – USA: AmazonUS  / BHphoto / Adorama / EUROPE: AmazonUK (via DR)
Good news first: The indigo blue X-A1 is in stock at BHphoto. Click here to check it out.
Bad news: It seems that BHphoto was too optimistic when they estimated the availablity of the XF 23mm f/1.4 for today. The new date is Octobere 30. Thanks Roger for telling me about it and to LetThereBeLight who said: "Just an fyi… I ordered my 23mm f1.4 through your site link to B&H. I noticed their expected availability was October 3rd and I looked today and it is expected on the 30th instead. I spoke to B&H customer service and they said the 30th is what is expected now and they do not have a shipment currently expected for tomorrow from Fuji. The representative told me I was near the top of the list as my order was placed at the time of pre-order release. I should be expecting shipment to begin on the 30th.. I guess we will be waiting a little longer!!"
Fujinon XF 23mm – USA: eBay / AmazonUS / BHphoto / Adorama / Pictureline / DigitalRev – EUROPE: AmazonUK (via DR) / eBay / DigitalRev / wexcamerasDE / wexphotographicUK / PCHstore
X100S in stock at AmazonUS, BHphoto and Adorama

Things are definiltely going better on the X100S front. It is still in stock at AmazonUS and now also at BHphoto here and Adorama here!