Animal Autofocus Already Available on Fujifilm Cameras, just not X/GFX! A Kaizen Request to Fujifilm!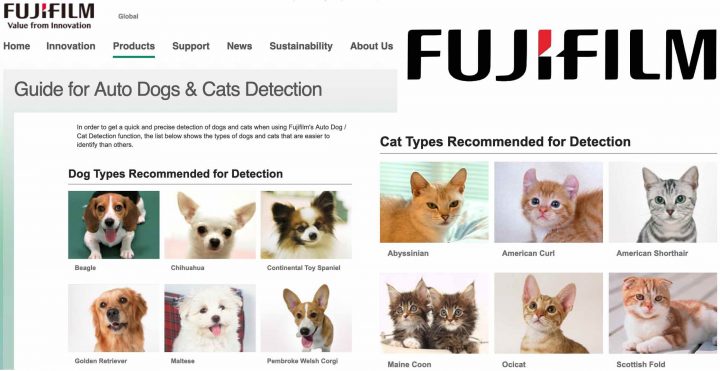 These are crazy firmware days, great joys thanks to massive new firmware and some worries due to faulty firmware.
So let's talk firmware today.
One of the autofocus features where Sony and Canon are running away to the competition is "animal autofocus".
And while it is probably not a feature that most of us would massively use, it would be definitely still nice to have.
Now, the FujiRumors community often asked me if Fujifilm plans to ever such a feature in future.
Well, let me say this first.
Among all camera manufacturers, Fujifilm was actually the very first company to offer something like that, with the Fujifilm FinePix F80EXR.
As you can read in the product description here:
For those who enjoy the company of four-legged friends, the F80EXR has Pet Detection, allowing users the ability to detect up to 10 faces of dogs or cats and automatically optimize the focus. The F80EXR is programmed to recognize 57% of the Fédération Cyno Logique Internationale (FCI) Registered Dogs, 80% of the Top 20 Dogs in the American Kennel Club (AKC) Ranking and 60% of The Cat Fancier's Association (CFA) breeds. Pet Detection works by matching various dog or cat data of facial parts with patterns to detect the dog or cat being photographed.
So, considering that Fujifilm already had a similar feature, I am confident that they will offer that in future also on X and GFX series cameras, maybe extended to birds and other animals. Sure, it's not a rumor, but looking at Fuji's history makes me confident this is going to happen in future.
For more details about the Fujifilm FinePix F80EXR:
Characteristics of Dogs & Cats with Detection Difficulties (via fujifilm.com)

Patterns:
Detection of dogs/cats that have large patches around the eyes or nose (especially black patches) can be difficult.
Colors:
Detection of blackish dark colored dogs/cats can be difficult.
Detection of dogs/cats without much contrast between facial parts (eyes and nose) and their overall body color can be difficult.
Shapes:
Detection of wrinkly, short muzzled face can be difficult.
Detection can be difficult if the distance between the eyes and tip of nose is comparatively long (dogs with long nose can be difficult to detect when shooting down from an angle).
Detection of cats with thin faces can be difficult.
Coat:
Detection of dogs with hair covering the eyes, nose or entire face can be difficult.
Detection of cats with hair covering the facial contour can be difficult.
Moves:
Detection of dogs/cats that are constantly in motion cannot be recognized.
Scene:
Detection of dogs/cats in a backlit situation can be difficult.