[UDPATE] X-T1: "it's hard not to fall in love with it" (pocket-lint), "believe the [EVF] marketing hype" (wilzworkz) and more!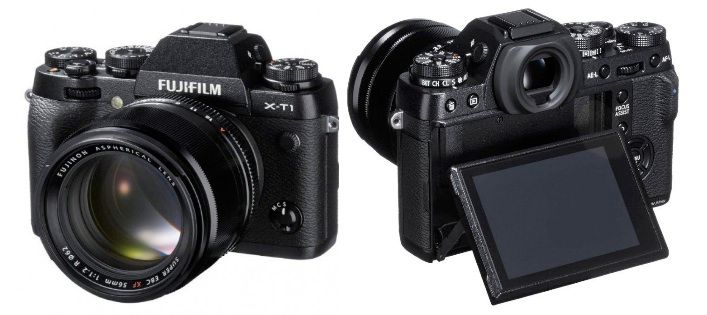 [UDPATE 1:] The Scenic Route | A review of the Fujifilm X-T1 at laroquephoto here: "Blown. Away. Guys, this EVF is something to behold. And looking through it is one of those crap, I can't go back moments. […] As reluctant as I initially was when I first saw the prototype, this camera has won me over. It's the highest performing and most customizable X body to date, all of the enhancements adding up to an extremely enjoyable and capable image making machine."
1) X-T1 first look at wilzworkz here: "I won't say much about weather sealing because I do shoot using cameras that has no sealing at all in all types of weather including rain and sand/dust in the desert. [EVF] Do believe a bit of the marketing hype – the EVF reacts fast and shooting this camera continuously don't have that black out effect that most mirrorless cameras are suffering. For the X-T1, I can actually keep track the subject pretty comfortably and I didn't get disorientated. […] So the X-T1 has the same sensor [X-E2] and along with it, the same speed in focusing. What's the main thing I would get it over the E2 would be the huge EVF and with it, a fast refresh rate while doing continuous shots such as for sports or nature shooting is certainly a boon. Coupled this with the Ultra High Speed UHS-II SD cards and this camera do perform really snappily. […]."
2) After ephotozine and photographyblog, now also pocket-lint here assigned 5 out ot 5 stars to the X-T1. I'll skip the part with the "X-cellent image quality" and emphasize what they think about the AF-speed and the EVF:
Has it really the fastest AF-speed in its class? Pocket-lint says:
"If you've used one of the earlier X-series models and thought they were too slow then we've got some very good news: the X-T1 is a lot faster […] but we would still put the Micro Four Thirds Panasonic and Olympus systems a step ahead throughout the variety of conditions and lens' focal ranges available."
And the EVF:
"the viewfinder is huge. The 0.77x equivalent magnification means its physical size is bigger than anything else out there. […] However, when the light dips there's certainly some ghosting that's visible, like a "stutter" of the image because the framerate adjusts to compensate. The claim of 0.005-second lag relates to how quickly what you see is relayed in the viewfinder – which is great – but this can't counter for some ghosting."
At the end they conclude that:
"[…] the X-T1 is a shining example of how a retro style camera should be done. Just take a second to look at it and it's hard not to fall in love. Those physical mode dials are well made, as is the all-metal and weather-sealed body; it's a melting pot of design that gives the Fujifilm a distinct edge that other manufacturers have since started to try and cash in on."
Rico (read his X-T1 first look and see his samples here), who's shooting with the X-T1 for several weeks now, said: "I can't find a single image or series in this review that would demonstrate the speed, slowness or accuracy of the tracking AF. Where are the test samples? Plus, I can't confirm a blurry EVF in low light. You will only get blur when you set the shutter speed to 1/15s or slower, which is perfectly normal and is true for all light conditions." He also updated his X-E2 Flickr set with AF-tracking samples using predictive AF (also the X-E2 uses predictive AF tracking). Check it out here.
3) Also kenreston had the opportunity to spent just 10 minutes with the X-T1. Here are his impressions.
4) Thomas Reiss: "The photographer Eric Bouvet is using his X-T1 in Kiev at the moment, please visit his Facebook page. Nice to see him handling a Linhof Technika alongside his Fuji Xpro1 and X-T1 :) I think it would be interesting to see this pictures here (facebook)."
[UPDATE 2] Carlos Muralhas: "Hi. I have been using Fuji X-E1 since its launch and loved it so much I sold all my Canon gear to buy mores lenses and, recently, the X-E2. I had the oportunity to hold the X-T1 in my hands for about 1 minute and got so excited about its feel in the hands, looks and the little usability I could perceive that I had to write about it. This article, that started as a set of my opinions about the X-T1 has grown to be a description of mirrorless advantages and disavantadges specially focused on the context of Fuji X series that took Fujifilm until the X-T1. Hope you like it, although it's rather big. Best Regards" Read the translated version of his article here.
X-T1 pre-orders
X-T1 body only ($1,299): USA: AmazonUS / BHphoto / Adorama / Pictureline / EU: wexDE / wexUK / PCHstore /
X-T1 with 18-55 ($1,699): USA: AmazonUS / BHphoto / Adorama / Pictureline / EU: wexDE / wexUK / PCHstore /
X-T1 Vertical Battery Grip ($ 249,99): USA: AmazonUS / BHphoto / EU: wexDE / wexUK /
X-T1 Hand Grip ($129.95): USA: AmazonUS / Bhphoto / EU: wexUk / wexDE
Lens deals
XF 14mm: $200 off (price $700) at BHphoto / Adorama / AmazonUS / Pictureline
XF 18mm: $200 off (price $400) at BHphoto / Adorama / AmazonUS / Pictureline
XF 23mm: $150 off (price $750) at BHphoto / Adorama / AmazonUS / Pictureline
XF 27mm: $250 off (price $200) at BHphoto / Adorama / AmazonUS / Pictureline
XF 35mm: $150 off (price $450) at BHphoto / Adorama / AmazonUS / Pictureline
XF 60mm: $250 off (price $400) at BHphoto / Adorama / AmazonUS / Pictureline
XF 55-200: $200 off (price $500) at BHphoto / Adorama / AmazonUS / Pictureline
X-cameras
HOT: The black X-E1 + 18-55 costs now ONLY $719 at BHphoto (shows when added in cart), AmazonUS and BestBuy (the lens alone would cost you $695)!
X-E2: save $100 on the kit ($1,299) and also on the body ($899) at AmazonUS.
X-E1: get the black kit for $719 AmazonUS and BestBuy or for $799 at BHphoto (4% reward) at and Adorama (6% reward). The body comes for just $549 at AmazonUS and BHphoto or for $599 at Adorama
X-M1: Save $200 (price $599) on the kit and $200 on the body (price $499) at AmazonUS, BHphoto (+4%reward) and Adorama.
X-A1: get it for $499 with kit lens (save $100) at AmazonUS, BHphoto and Adorama.
X-PRO1: get the body for $999!! (save $200) at AmazonUS,  Adorama (+4%reward) and BHphoto (+4%reward).