X100/S tele converter lens available in late April or May (and more images).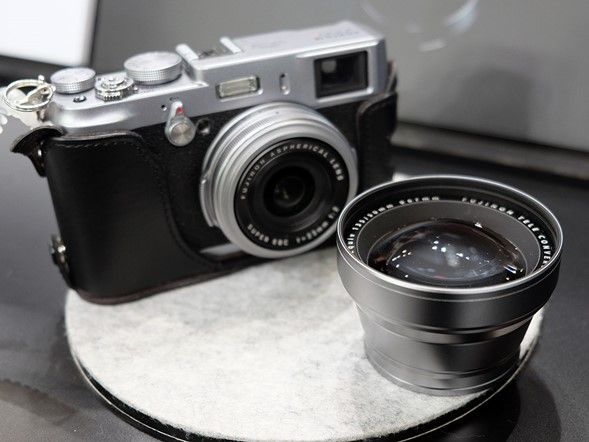 Just a quick rumor update:
According to a new source, the tele converter lens, unveiled by Fuji at the CP+, will be available in late April or May. Another new source said "before summer". Still no information about the price.
With the [shoplink 12893]WCL-X100[/shoplink] and TCL, X100/s owner will have a three-lens mini system (28mm, 35mm and 50mm) with leaf shutter, fast aperture and terrific IQ.
more images via cultofmac via dpreview
X-T1 reviews
– X-T1 hands in and impressions atKasyapa (translation here).
– X-T1 vs A7 ISO comparison at pcpop here.
– f/otographer: "I just wanted to let you know that I did a small write up on the X-T1's place in the overall scheme of camera history and why I believe it is important. Some of your readers might find it amusing. (fuji-x-t1-return-of-king). f/otographer."
– X-T1 review at fujivsfuji here: "The X-T1 is must-buy for any Fuji fan who shoots in poor weather, in low light, action, or all of these above, and it's the camera to buy for serious photographer looking for a compact system."
– Fujifilm X-T1 First Impressions Review at cameras.reviewed here: "We were able to lock on to moving subjects with ease, and the continuous AF mode worked a treat thanks to phase detection pixels baked into the X-Trans II sensor."
Does the X-T1 meet your needs?
 Then feel free to purchase it using one of the links below. You will at the same time support this blog and my daily work on it with no extra costs for you… with your support, we could have an exciting rumor year in 2014.
X-T1 body only ($1,299): USA: AmazonUS / BHphoto / Adorama / Pictureline / EU: wexDE / wexUK / PCHstore /
X-T1 with 18-55 ($1,699): USA: AmazonUS / BHphoto / Adorama / Pictureline / EU: wexDE / wexUK / PCHstore /
X-T1 Vertical Battery Grip ($ 249,99): USA: AmazonUS / BHphoto / EU: wexDE / wexUK /
X-T1 Hand Grip ($129.95): USA: AmazonUS / Bhphoto / EU: wexUk / wexDE